18/9/2017
UISP: Let's use the tools we have to convince stakeholders about the importance of physical activity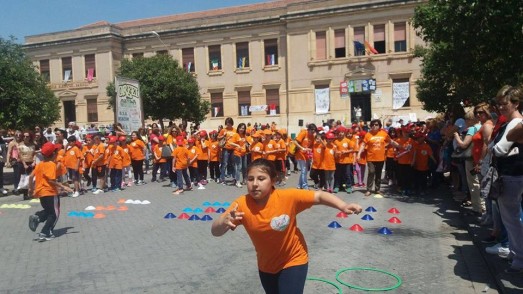 In Italy, important stakeholders in sport and physical activity are spread out over different regions, as well as those sitting in the most influential seats of the national government. So this presents a complex, but exciting challenge to organisations like ISCA member UISP, which navigates these diverse political settings everyday through its national umbrella and regional and local committees. UISP's Raffaella Chiodo Karpinsky shares her insights with us as part of the ActiveVoice project.
"I'm confident that we can learn a lot through this project on how to optimise our tools for the cultural revolution we need to promote physical activity in Italy," she says.
What is your approach to advocacy and alliance building in your country through the ActiveVoice project?
I would say that there are two different aspects and opportunities the ActiveVoice project offers us concerning advocacy. The first is the opportunity to learn how to make our advocacy approach more systematic. The second is what we can offer to our partners and the experience we use day-by-day to develop sport for all in Italy at different levels – national or local – by building alliances and advocacy strategies.
Who have you approached and what was the response?
We are trying to establish conditions for common strategies with all possible and useful stakeholders in our cities, regions and at a national level. It's not easy, but we are trying every day to convince stakeholders of the importance of physical activity and sport for all. Let's say that the consciousness about the importance of physical activity for a better life and happiness among citizens is increasing, so the responses from stakeholders are more positive.
Advocacy towards the public administration, governing bodies and policymakers has to be built at an adequate level day-by-day. There are regions and cities where awareness and policies are very well developed and we just need to continue our traditional daily work involving citizens in activities and events. For example, we can mention cities like Bologna or Ferrara or the Emilia Romagna region. In other cases, we need to capture their attention and local UISP committees need support to advocate for physical activity. The picture isn't homogeneous so we need to schedule and reschedule our strategies depending on our interaction with individual local authorities.
The case of Rome is an example. It should be clear enough that public spaces have to be available for citizens to enjoy free physical activity. But this simple element is not always understood. Sometimes our request is confused with competitive sport. So we need to use all available tools to promote awareness of the importance of physical activity and use knowledge from the HEPA guidelines and Recommendations, as well as the WHO Europe Guidelines on Physical Activity to build our case.
At a national level we can mention the work we are constantly doing with advocacy towards the Sport Office of the Presidency of Council of Ministers, Ministry of Sport (established in December 2016, after many years without), the National Association of Municipalities and Council of Regions.
We also practice advocacy towards the Parliament, policy makers and Members of the Chamber or Senate. In particular we approach them during campaigns or events like MOVE Week, EWoS, Vivicittà, Bicincittà or when we're promoting documents like HEPA Recommendations or Physical activity strategy for the WHO European Region 2016–2025 (which UISP has translated - see the link below).
What types of challenges are you facing and how have you overcome (If not, what do you plan to do)?
The cultural challenge is one of the most important to approach. But another sensitive element of our work is to face a particularly difficult political phase. It is not only an economic crisis, but a larger social one where citizens feel confused in an uncomfortable social climate. To help people to feel better through physical activity is even more important now. People understand that they can benefit from physical activity not only physically but also mentally and socially.
Decision makers need to be "educated" somehow on the importance of physical activity as something that needs to be promoted by all sectors at a local and national level. This is why documents like HEPA recommendations and WHO Guidelines are very needed. This is why we try to facilitate their knowledge and translate them into the Italian language.
The last step in this activity has been our decision to translate the WHO Strategies on Physical Activity. This gave us the opportunity to establish new contacts and draw attention to ideas and strategies we proposed to municipalities and regional and National governing bodies that can facilitate change. Together, if all sectors and stakeholders play a role, we can create change and contribute to healthier and happier citizens. This is what I believe. But it is crucial that everyone understands the importance of their respective roles.
What would be your most important message for other organisations to help them with their advocacy?
The most important message for other organisations in their advocacy work is that it is crucial to have good "passpartout" and documents like the HEPA recommendations and WHO Strategies to gain attention from institutions at different levels. At the same time, they represent an educational and cultural opportunity for all. If you enter institutions using those instruments it reinforces the credibility of what we are arguing for. It is a kind of endorsement of our ideas and proposals.
What will be your future steps for your physical activity promotion, advocacy and alliance building?
This is a question that has two faces in my answer. One is the pessimistic one: we are still far from achieving our goal of having more aware and active institutions (from national to local level), but I feel we are now more conscious of the power of the idea of a better and happier life through physical activity. We have important documents to back us up, but these are tools that need to be "activated" by us as stakeholders, otherwise those important papers will "remain in the drawer".
So here comes the optimistic perspective. The project ActiveVoice can help us to obtain results. We need to approach citizens directly and continue our action in stimulate institutions from below and from the top. Is not easy at all, but if we use the tools and the opportunities that projects like Active Voice offer us, in terms of exchange of experiences between very different partners, we can be stronger and more effective. I'm confident that we can learn a lot through this project on how to optimise our tools for the cultural revolution we need to promote physical activity in Italy. At the same time we hope to offer useful experiences to other partners. I feel we can achieve good results.
Photos by UISP (from MOVE Week actions in Italy)
To access UISP's translation of the WHO's Physical activity strategy for the WHO European Region 2016–2025, please click here
Find out more about the EU Erasmus+ supported ActiveVoice project