27/5/2010
UISP AGAINST HOMOPHOBIA
SPORT AND RIGHTS FOR HOMOSEXUALS AND TRANSGENDERS
On May 17th around Europe, but not only in this continent, was celebrated for the fourth year the "Day Against Homophobia", to promote initiatives against intolerance and prejudice about sexual orientation. "I am pleased that we talk about - says Tatiana Olivieri, member of national Uisp executive committee, and promoter of 0.3 Tolerance campaign, pictures campaign against homophobia in sports - there is still reticence, even if in the last year the attention about this topic increased because of the numerous cases of violence against homosexuals and transgenders".
This year goal of the Day was to ask religious leaders to publicly declare what they think about violence against lesbian, gay, bisexual and transgender people.
"The attitude of the Church is dangerous - continues Olivieri – because recently the Church compared homosexuality and pedophilia".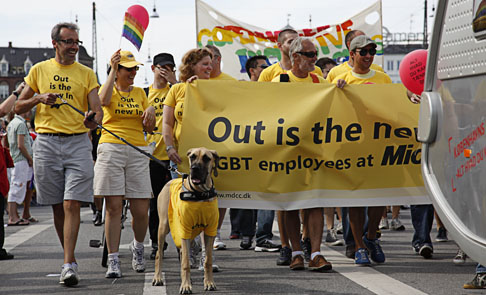 Sport is extremely adverse to speak about these issues: "Not all bodies are considered as equal, and not all people are considered people with rights. Gender, sexual orientation and identity are removed in the great world of sport. Sport world is one of the most macho of all, there are many stereotypes".
Our pictures campaign is going very well – concludes Tatiana Olivieri – people continue to get pictures. For next year we intend to work on a campaign for the 'coming out' to invite athletes to publicly declare their homosexuality. There are sports where it seems that there is no homosexual people, like in football for example. Even in the next edition of Mondiali Antirazzisti, on July 7th -11th, will take place events dedicated to the fight against homophobia. We will ask all participants to make pictures with the slogan "Stop homophobia" and we will organise a thematic exhibition". (F.Se)