24/4/2019
Today's No Elevators Day the most international yet!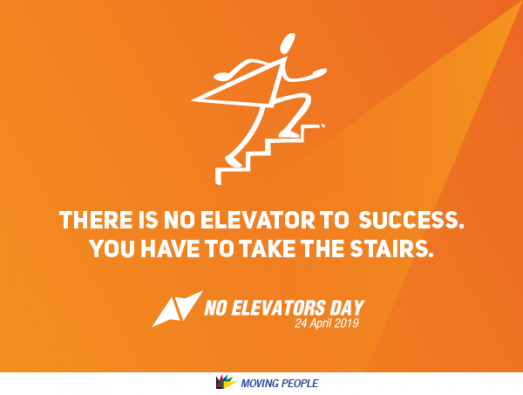 The fifth No Elevators Day is under way, as physical activity promoters in 40 countries and five continents are sealing off lifts and escalators in their buildings or public places to encourage more people to be active. As the globe turns, this year's No Elevators Day (24 April) has already started in Australia and will finish in the US and Latin America.
The day is a NowWeMOVE campaign event designed by ISCA to get more people moving at work or on their daily commute.
Countries participating for the first time include Costa Rica, Peru, Georgia, India, Lebanon, Oman, Norway and Zimbabwe. Participation in No Elevators Day is voluntary and both event organisers and participants are encouraged to share their stair climbs on the day with the hashtags #NoElevatorsDay (UnDíaSinAscensores in Spanish speaking countries) and #TakeTheStairs.
ISCA is also partnering with WHO Europe and European Immunization Week to turn UN City in Copenhagen into an interactive learning and activity zone as a No Elevators Day flagship event. The initiative – and the combination of these two campaigns – is a unique example of a partnership between an intergovernmental institution and a civil society organisation.
Spotlight on four No Elevators Day countries
What are countries around the world doing this No Elevators Day? We put the spotlight on two new participating countries and two that are celebrating their fifth No Elevators Day with us.
Australia
Tour de Office in Australia is the first Australian organisation to come on board as an official No Elevators Day supporter. The NGO organises annual events and regular initiatives to get office workers moving and clock up impressive numbers of kilometres to raise money for various charities. No Elevators Day is another weapon in their arsenal to encourage office workers to #quitthesit.
Costa Rica
Costa Rica is staging No Elevators Day or Día Sin Ascensores for the first time and has made an excellent start with three events and two articles published in the college for journalists as well as in the magazine Exercise and Health. The national ministry of work is also expected to join in with an activity starting at 8AM on 24 April.
Poland
V4Sport in Poland is connecting its Active Schools initiative to No Elevators Day, explaining that "in our Active Schools MultiSport project, we believe that active kids do better in school and in life. No Elevators Day is a great opportunity to promote physical activity in daily routines. We have announced a challenge to engage more people to take the stairs. We have motivated students and teachers from at least 60 Active Schools to break the record of climbing floors. The main goal we have set for 2019 is to climb Mt Everest. To succeed, we need to climb 2730 flights together!"
"We have invited schools to make videos and take pictures using the stairs and share them in their social media channels with the hashtags: #TakeTheStairs #NoElevatorsDay #DzienBezWindy #ASMnaMtEverest."
Spain
Deporte para la Educación y la Salud is dedicating a whole week to No Elevators Day with its No Elevators Day (NED) 4 Schools initiative, which runs from 24-30 April. Building on from a successful launch in 2018, NED for Schools combines school subjects such as mathematics, language, physics, art and science with stair climbing. The idea that every step counts not only towards the children's health, but also their performance at school!
Check out the full list of events here and #TakeTheStairs wherever you are this #NoElevatorsDay.