5/8/2016
The grassroots sport sector: An Olympic Games "party killer" or voice of reason?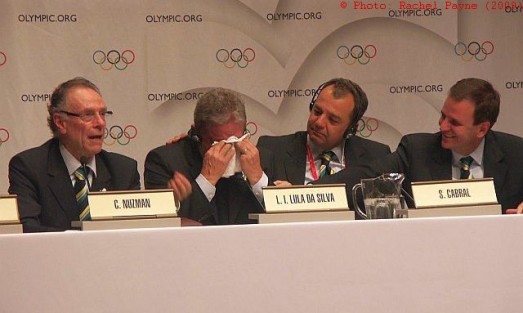 Comment by ISCA President Mogens Kirkeby:
I sincerely hope the 2016 Olympic Games in Rio de Janeiro will be a peaceful event, a great show and a good party for the participants, the Brazilians and the guests of the country.
The Olympic Games is a big party – and an expensive party, of course. The last Summer Games in London passed the USD $10 billion mark and new reports are suggesting that Rio is spending less than half this amount on its Games. If accurate, this is a promising trend, but it still equates to around USD $500 thousand per participant plus the costs the sending federations and countries have spent on their athletes.
How much that is in €/$/£ probably varies a lot from athlete to athlete, country to country. However, back in 2009, an Independent Sport Panel (in Australia) published the report The Future of Sport in Australia. The report, which is also known as the Crawford Report, calculated, among many things, the cost of a medal at World Cup/Olympic level. The result was that for Australia, which ranks rather high in the medal race at the Olympics (sixth in Beijing and eighth in London) the cost per gold medal was 15 million Australian dollars (AUD) and the average cost for any medal was AUD $4 million. (Recent reports claim the amount leapt even higher to AUD $37 million per gold medal in London ).
There are around 950 medals to compete for at the Rio Olympic Games. If the (national) costs are like those estimated in the Crawford Report, the calculation would be: 950 x AUD $4 million = AUD $3.8 billion (USD$2.9 billion or €2.6 billion).
The Crawford Report was not well received by many parties in the Australian Sport sector – especially because the price estimations were followed by these comments:
"The relevant NSOs and AOC and the Australian Paralympic Committee (APC) have put together a case for an additional $109 million per year on average on the basis that this is required to sustain Australia's position as a 'Top Five' medal count nation.
The Panel is not in a position to argue whether this would be money worth spending because it cannot judge it in light of other priorities. But we doubt that this is where the next $100 million per annum for sport should be spent. A common view expressed to the Panel—even by many NSOs—was that elite performance ultimately depends on the depth of participation and this area has been badly underfunded."
Are we a "party killer" or voice of reason?
My point is that there is always another goal to achieve or a position to improve - and this demands resources.
Many countries have set specific medal goals ahead of the Rio Olympics – X medals or so many gold medals. My guess is that if you add up all of these national goals, the total number of medals aimed for will by far exceed the reality (the number of medals available). So, naturally, some countries will end up meeting their set medal goals and some will fall short.
This is where the participation sports sector come under pressure. Because whatever result a country achieves, the advocacy message remains the same. The countries/federations meeting the medal targets will conclude: "We need more money to stay at this level" and countries/federations not meeting their medal goals will conclude: "We need more money to meet our medal goals".
From an advocacy point of view, participation sport representatives like us end up in the "party killer" corner – or, as stated by the British Economist Stefan Szymanski when he was in a panel with the leaders or the organising committees from Beijing, London and Rio: "I feel like an undertaker at a wedding!"
We speak up with the "boring" messages that maybe these resources could be spent differently on another not so visible "party" – namely everyday sport for all for citizens!
This is not an easy political message to succeed with in the days of the Rio party, but go for it – somebody has to do it – and it might as well be you.
Photo by Rachel Payne taken at the XIII Olympic Congress in Copenhagen 2009