31/5/2018
StepJockey steps on board as MOVE Week partner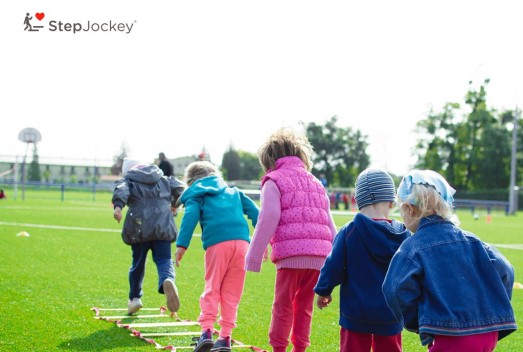 UK organisation StepJockey is extending its support for the NowWeMOVE campaign from No Elevators Day to MOVE Week this year as part of its continued efforts to get sedentary people moving. Kick-started by the UK Department of Health in 2013 to provide creative ways to nudge office workers to use their workplace to be active, the company is now using MOVE Week as a launching pad for its new programme for children.
The Anti-Sedentary Schools Programme is building on StepJockey's successful strategy of "gamifying" opportunities to be active that are around us – at the office this includes recording stairs climbed on the StepJocky app. Its schools programme will not only make physical activity a game for children, it will also unveil fitness "superheroes" and engage local and international personalities as role models to help promote its messages.
With its announcement of the Anti-Sedentary Schools Programme today, StepJockey writes why its work and the NowWeMOVE campaign are a perfect fit:
"StepJockey is proud to become a 'MOVE Agent' partner and join the many progressive organisations who set up innovative events to encourage more physical activity and ultimately help to reduce sedentary behaviour in the long-term."
StepJockey CEO Zarir Vakil says that MOVE Week and the launch of the new Anti-Sedentary Schools Programme are well timed to promote physical activity among children before the school holidays begin.
"The main objective of the programme is to educate children on the importance of regular movement, as sitting for long periods is becoming as big a health problem for society as smoking has been. It is also about supporting teachers and parents in reinforcing the message and leading by example," he says.
"As we are getting closer to the summer holidays, it is the perfect time to encourage children to be regularly active and spend less time attached to their devices!"
Read more about StepJockey's partnership with MOVE Week here and more about its Anti-Sedentary Schools Programme.
Find out how StepJockey celebrated No Elevators Day