20/6/2019
Social inclusion of refugees can start with you and physical activity:
Try our new Integration of Refugees Through Sport online course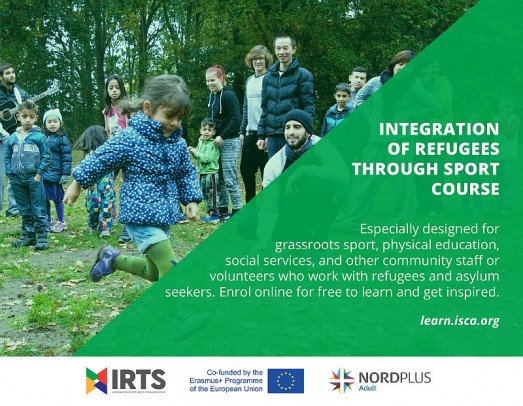 Today ISCA is celebrating World Refugee Day by launching a brand new online course available on learn.isca.org that is especially designed to support grassroots sport, physical education, social services and other community staff or volunteers in their professional development.
If you are working with, or are considering working with, initiatives to support refugees settle into their new communities, the free course will equip you with inspiring – and often moving – first-hand insights from professionals in Scandinavia, Germany, Italy and the UK.
The online course was designed together with partners of two projects supported by NordPlus Adult and the Erasmus+ programme on the Integration of Refugees Through Sport and captures essential learning points from their experience in working with this vulnerable target group.
By completing four interconnected modules, you will learn:
The refugee story: Understanding the target group and their situations
How to start: What steps can you take to work with refugees through sport and physical activity
Intercultural understanding: Learning more about cultural differences and sensitivities in working with this target group
Partnership and collaboration: Who can you approach for support or to work together on your initiatives? Individuals can be powerful change-makers, but it's often easier and effective to work together.
Start your journey towards positive change
Despite many political challenges that clubs, organisations, NGOs and even individuals working with refugees, immigrants, asylum seekers face in their daily work, we are optimistic and motivated to change things, slowly, but hopefully with everlasting results for an inclusive society of tomorrow.
The main message that has recurred throughout the Integration of Refugees Through Sport project is that sport and simple physical movements can be used as a momentary relief for refugees and can open doors to new social contacts and different cultures. And that sport and physical activity are also simply about people wanting to #PlayTogether.
"One of the most common issues for refugees is the growing existential crisis – not wanting to exist. Physical activity is something that provokes the feeling of actually wanting to be alive," Morten Andersson from the Ollerup Academy of Physical Education in Denmark shares from his experience on the challenges and rewards of using physical activity to help refugees settle into their new communities.
Gain more valuable experience in just a few clicks and start your online learning journey this World Refugee Day at learn.isca.org
The Integration of Refugees Through Sport online learning course has been developed with support from the EU Erasmus+ programme and in collaboration with the following partners: International Sport and Culture Association (coordinator), Akershus Idrettskrets (Norway) UMFÍ (Iceland), Academy of Physical Education Ollerup (Denmark), SISU Västergötland (Sweden) German Gymnastics Federation (DTB, Germany), UISP (Italy), StreetGames (UK), and University of Kent (UK).
Visit the official website for the initiative here