23/4/2018
Slovak Olympian joins us as a No Elevators Day ambassador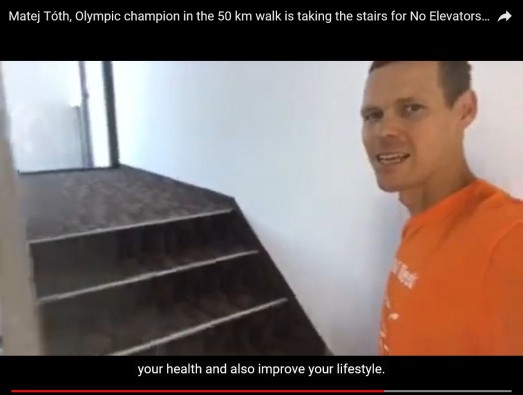 Slovak Olympic athlete, World Champions and Rio Olympic Games gold medallist in the 50km Race Walk Matej Tóth is warming up to take the stairs for No Elevators Day on 25 April.
He made a video especially for the day – and gives us a sneak peak of how he will be moving this Wednesday.
"Hi all! I'm Matej Tóth, Olympic winner in Race Walking from Rio de Janeiro.
And I don't use an elevator. And today is special, because today these elevators don't work.
With this, I want to join to international No Elevators Day, which will be on 25 April.
Let's do something for your health and start this day by using the stairs instead of the elevator.
Stairs are healthier, faster – you can't wait for elevator – and even a short walk on the stairs will benefit your health and also improve your lifestyle.
So, join me too – No Elevators Day is this 25 April."
Find out more about No Elevators Day