19/2/2018
S2A Sport project partners ready to launch new resources on sport administration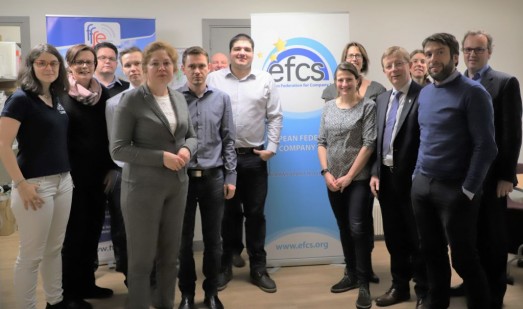 Partners of the S2A Sport project, including ISCA, are preparing to launch a series of resources that will help shape the "sports administrator's" role and professional development opportunities for people working in both elite and grassroots sport organisations. At the final project meeting at the European Federation for Company Sport in Paris on 27 January, the project lead, EOSE, and the project partners met to finalise the resources and prepare for their public launch in the coming weeks.
Since the project began in September 2015, the S2A Sport (From Strategy to Action) project has applied the Lifelong Learning Strategy for Sport and Active Leisure (or 7 Step Model), developed by EOSE, to sport administration by consulting people working in grassroots and elite sport and mapping the skills and professional development needed to work effectively in their organisations. The motivation behind defining sport administration as a field is that people working in sport administration are typically those who put an organisation's strategy into action.
The partners conducted a pilot professional development course in Finland last year for 40 participants from around Europe, including early career-starters to established middle managers, coving topics such as good governance, managing human and physical resources, fundraising and physical activity promotion.
"Developing sport administration in Europe is a process in the making and we should be proud to have pioneered some offers during the S2A Sport project," EOSE Executive Director Aurélien Favre says.
"The interest from the sector has clearly been demonstrated and we have developed together solid foundation. The time is now for us all to work on next steps towards sustainability and future actions!"
S2A Sport project manager Carole Ponchon says that with the support of the project partners, both the sport administration term and the 7 Step Model methodology, which was also developed with EU support, have come to life.
"Reflecting back, the S2A Sport project journey has brought the whole partnership and a community of 40 emerging leaders in sport administration through various and invaluable experiments," she says.
"The 7 Step Model has once again served as pattern through the project allowing this time the partnership to provide an interactive mapping of the skills and occupations in sport administration. Yet what will probably be remembered is that for the very first time in EOSE history, a pilot European Training was live tested. This clearly opened up new perspectives and we took the opportunity of the final project meeting to acknowledge and praise the crucial and beneficial contribution of all partners towards the whole process. This project has truly been the embodiment of a strategic partnership."
ISCA will share links to the resources when they become available.
Find out more about the project