25/4/2019
Prevention a key to health as #NoElevatorsDay and #VaccinesWork campaigns come together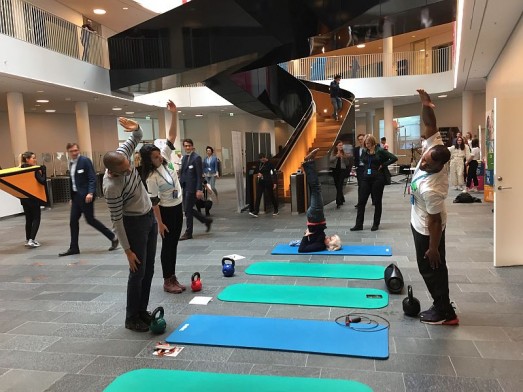 Whether it's climbing a couple of flights of stairs a day or protecting yourself and your family from potentially life-threatening diseases, the message ISCA and partner WHO Europe shared at the No Elevators Day and Immunization Week #VaccinesWork flagship event at Copenhagen's UN City on 24 April was that prevention is key to our health and wellbeing. And that small steps can make a big difference.
ISCA and WHO Europe staged an active "treasure hunt" for UN and WHO employees, where participants had to complete a series of physical activity and information stations to collect stamps towards a prize for their efforts. The stations ranged from fitness tests, to "skiing" down the stairs with ISCA's Austrian "ski instructor" Markus Schwaiger, a sweat-raising workout with the UN's resident Fitness Manager Johanny Reyes, a parkour lesson, office exercises, a photo opportunity with the NowWeMOVE and WHO mascots, and Q&A with WHO experts on disease prevention through immunisation.
UN City's towering and winding staircase was the showpiece of the day, being so busy at times that staff had to queue to get in and out of the security gate. But when the view is so impressive on the way up and down, taking the stairs certainly beats the confinements of the elevator.
Bike for Europe cycling tour team captain Feridun Ekmecki from Turkey also made a surprise visit to UN City and was the first to complete all stations to receive his prize – as much a testament to his dedication to promoting physical activity as a NowWeMOVE campaign ambassador as generally being a "good sport".
Around the world 40 countries got involved in No Elevators Day, sharing their climbs on social media throughout the day starting from Australia, India and Oman, and finishing in Brazil. Participants in England, Scotland and Wales made an early start with Tweets emerging from around 6AM GMT.
Event organisers ranged from governments to companies to individuals, and included the Ministry of Education, Science, Culture and Sport in Georgia, communications agency BCW Brussels, the European Food Information Council, Birmingham City University and Maribor University, Osmond Ergonomics, Active Essex, ACES Europe, the European Student Network (ESN), Tower Running Mexico, and Sesc São Paulo.
With this momentum, No Elevators Day 2020 promises to be even bigger. So save the date: Wednesday 29 April 2020 and until then, keep climbing!
http://no-elevators-day.nowwemove.com
By Rachel Payne, ISCA
Photos by Rachel Payne and Marie Oleinik