18/3/2008
Play the Game breaktrough
Funding ensured and new bids to host conference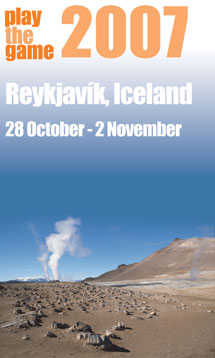 The financial foundation for the next four years' work of the Sports debate institution Play the Game was secured in March as the Danish government and its parliamentary supporters included the institution in the delayed state budget agreement for 2008.
The settlement not guarantees a regular state grant to Play the Game until 2011, and triples the yearly amount from 67,000 to 200,000 euros. Read more here.
Prior to that, applicants from the United Kingdom, Germany and Spain expressed interest to host Play the Game in 2009.
It is therefore necessary to hold a selection round to find the host city for the sixth Play the Game conference, which will be held in 2009. The conference is known as the only international meeting-place where sport's top leaders and their sharpest critics meet for open debate on corruption, match-fixing, the fight against doping and other challenges to sport.

When the deadline for submitting expressions of interest passed last week, bids were received from three candidates in the United Kingdom, Germany and Spain respectively.

The British bid comes from Coventry University and its Centre for the International Business of Sport, which suggests the local football stadium, the Ricoh Arena, as the setting for the conference.

From Germany, Sportnetzwerk is applying. Sportnetzwerk is a network of sports journalists and researchers who, taking inspiration from Play the Game, have just carried out two large symposiums on sports politics and would now like to stage next year's conference in Berlin.

Finally, the Spanish sports organisation Blume, which each year arranges an international gymnastics and sports festival, has applied to bring Play the Game to Gran Canaria.

See more here