17/4/2019
Over 30 countries participating in No Elevators Day 2019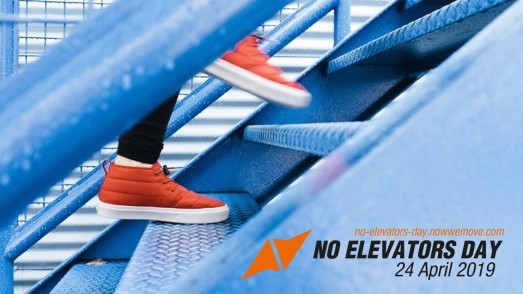 Wednesday 24 April will mark the 5th edition of No Elevators Day, a free global initiative aimed to add more physical activity into a busy schedule. This year, organisations from more than 30 countries across 5 continents will come together to promote a healthier lifestyle by encouraging their employees and visitors to choose a staircase over an elevator or an escalator.
No Elevators Day will take place in schools in Spain and educate students about various benefits of stair-climbing, such as reducing stress and saving time. 33 activities will be arranged in Brazil through 15 Sesc centres and a national event in São Paulo. The Municipality of Palmira in Colombia is organising a No Elevators Day where citizens can learn more about physical activity as well as ways to be active on and off the stairs. The event will also take place in the BRR Towers business centre in downtown Karachi, Pakistan and many more cities in Europe, Asia, Africa and the Americas.
With one week left to go, there is still time to join the worldwide movement by registering your No Elevators Day activity for free and creating healthier habits among the members of your community. Office buildings, towers, universities and all organisations as well as individuals are welcome to join the initiative by sealing off elevators or escalators and encouraging passers-by to #BeActive and #TakeTheStairs.
Full list of registered events around the world is available here.
By Marie Oleinik, ISCA