23/10/2018
"Our initiative started with a dream and now it's getting the recognition it deserves":
MOVEment Spaces Award winners celebrate successful partnerships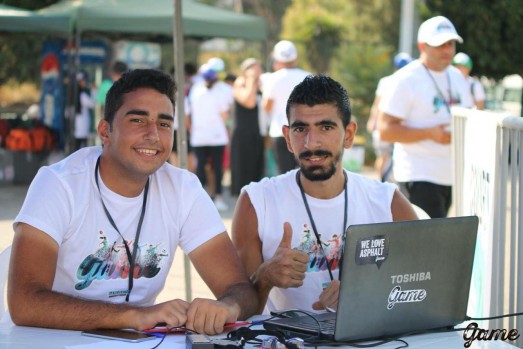 Four exemplary partnerships who have transformed "green", "black" and "blue" urban spaces into active spaces will travel to Paris next month to receive their ISCA Awards for MOVEment Spaces at the Moving People – Moving Europe seminar on 23 November. The lucky winners were revealed last week from the 12 shortlisted candidates.
It was a difficult task for our ISCA Awards 2018 expert jury to narrow down the 35 eligible candidates for this year's MOVEment Spaces awards, as there are so many successful examples of NGOs, grassroots sport organisations and local authorities who are Moving People by utilising the spaces around them.
The initiatives that ultimately stood out to the experts were Fitness-Locations from DTB in Germany (green space), Looking for a Place to Dream from GAME Lebanon (black space), and Bathing Zones from the City of Copenhagen, Culture and Leisure Department in Denmark (blue space). The People's Choice award was also toughly contested, with the public's favourite being the partnership, led by Healthy Ireland: Healthy Cities and Counties, who created Swim Distance Markers in Galway Bay.
Fiona Donovan, Project Lead for the Healthy Ireland: Healthy Cities and Counties project says Galway City is thrilled that its idea to mobilise the community by making its local waters more accessible is being recognised worldwide and is proving to be both sustainable and transferrable.
"Galway City, Ireland, is delighted to secure the 'People's Choice Award', which we think reflects the broad appeal of sea swimming and also the simplicity of the idea," she explains.
"The swim distance markers in Salthill have been hugely popular and successful as they have opened up people's minds to swimming in the sea and they also provide incentives to progress. This award has also promoted the idea across Ireland and other countries which is fantastic."
Similarly, the Bathing Zones initiative in Copenhagen has succeeded in making the harbours around the city some of the most popular places for swimming – both in summer and winter – which the city celebrates as a great achievement.
"On behalf of the City of Copenhagen, I am certainly proud that our bathing zones have won an international award. In Copenhagen we take great pride in the clean harbour and our ability to include it in our active urban spaces. If our bathing zones can be an inspiration to other cities, we are very happy," says Mads Kamp Hansen, Head of the City of Copenhagen's Cultural Development.
Lebanese project starts with a dream to create active spaces for youth
The ISCA Awards were open to entries from around the world, and GAME Lebanon stood out with its "Looking for a Place to Dream" initiative that has engaged young people as Playmakers who have been responsible for designing and executing the initiative's app and campaign.
Salem Loutfi (pictured above, photo courtesy of GAME), a street basketball Playmaker at GAME Lebanon expresses what winning an international award means to him and his team of Playmakers.
"It fills my heart with joy knowing that a small idea we discussed in our small office got this far. I never have thought the result would turn out to be as amazing as this. This campaign started with a dream and now it's getting the recognition it deserves, because of this, I see that youth will help us in finding more urban places to be active together. This campaign will give them hope that their dreams might come true in having a public place where they can enjoy doing their activities."
Dreams begin not only with an idea, but a strong partnership that can make that dream happen, and Pia Pauly, the head of DTB's Sport Development department, says the recognition for transforming local parks into open air gyms is a win for both DTB and their partners.
"We are happy and proud to win an ISCA Award for MOVEment Spaces. We didn't expect this and our partners are also really happy," she says.
And we look forward to presenting all of the winners with their awards when we gather with 150 grassroots sport enthusiasts from 79 countries in Paris this November.
Find out more about the ISCA Awards for MOVEment Spaces
By Rachel Payne, ISCA