21/8/2018
Opening streets to become MOVEment Spaces:
New partnership emerges with Colombia's Ciclovias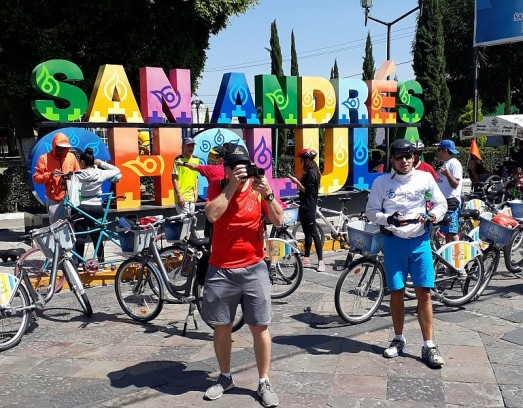 By ISCA President, Mogens Kirkeby
ISCA and the Ciclovias Recreativas de las Americas have signed a partnership agreement to support development of more MOVEment Spaces.
Opening streets for recreational physical activity is an efficient way to create accessible MOVEment Spaces for many people. Playing in the streets is not a new thing. Actually, when streets were not strongly occupied by motorised traffic they were social meeting points and places to play games, etc.
With an increase of car traffic many roads became exclusive spaces for car drivers.
But the concepts of 'Open Streets', 'Cyclovias', and 'Active Streets' around the world show how busy roads can be transformed into accessible recreational facilities – and it 'only' takes some political decision power and a good partnership around the practical organisation of the activities to pull it off.
Different streets – different concepts
'Open Streets' events have different formats. Many follow the concept of closing the streets for cars over a certain timeframe (often Sundays) and inviting people to bike on safe and open streets. But many 'Open Streets' also include events on squares and parks in connection to the main 'Open Streets' activity.
The size of the 'Open Street' also differs a lot. We can see anything from a small local road of a few hundred metres closed for cars to create local social/recreational spaces, such as Birmingham City Council's Active Streets concept. And at the other end of the scale there are roads with distances of 50-100 kilometres filled with many side events mobilising hundreds of thousands, and even millions, of citizens. Examples include the Sunday Open Streets and Cyclovias.
Some organisations have taken on the responsibility to gather and share knowledge and inspiration about the concept of 'Open Streets'. One of the best examples of this is the network of Cyclovias in the Americas. The organisation Ciclovias Recreativas de las Americas unites around 100 Ciclovias and exchange inspiration to help support the transofrmation of more streets into MOVEment Spaces.
Opening streets to become MOVEment Spaces is highly recommended – and could maybe be an idea for your neighbourhood or city.
Find out more about Ciclovias Recreativas de las Americas and Active Streets Birmingham UK
Find out more about MOVEment Spaces