17/3/2020
Online community encouraged to share stair climbing tips and good vibes this No Elevators Day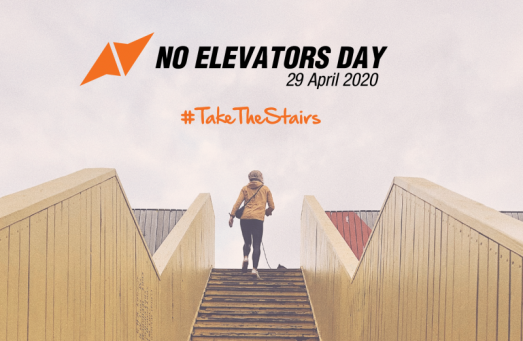 As many of us are now adjusting to more restricted daily routines, taking the stairs at our home residences or outside in the fresh air is one of the easiest and safest ways to keep active if we are able to do so. That's why the 6th No Elevators Day will still take place on the original date of 29 April 2020 and promote stair climbing as an accessible way to keep moving.
In our current global situation, we understand that public events are less realistic to organise for this year's No Elevators Day. So we instead encourage our community of MOVE Agents to be active wherever they are and share pictures, videos or tips on how to use the stairs to exercise.
Simply share your climbs anytime with the hashtag #TakeTheStairs to show how you are finding your MOVE at home or outside. Or share your activities on 29 April with the hashtag #NoElevatorsDay.
We look forward to seeing your posts and tips, and sharing the good vibes online. And please feel free to reach out to NowWeMOVE campaign manager Laska Nenova or Emma Venneker, ISCA's No Elevators Day coordinator, if you have any questions.
Visit the official No Elevators Day website here