1/6/2011
Olympics may fail to spark UK sport participation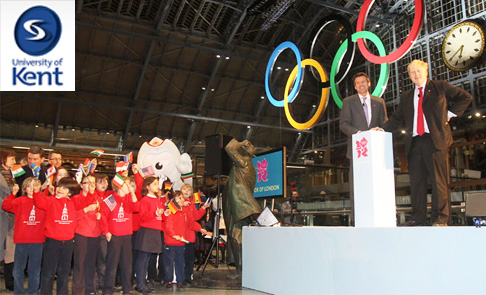 By EuroVolNet Partner
University of Kent Centre for Sport Studies
The 2012 London Olympics may fail to spark increased UK public participation in sport, new research by a University sports studies expert suggests.
The government hopes hosting the games next year will result in more people taking up a sport or becoming physically active. But a new study of the 2004 Athens Games provides evidence that the effect of the Games on sustained participation in sport is open to doubt.
Lord Coe, chairman of the London 2012 organising committee, has stated his hope that the Games encourage more people to take part in sport at a grass roots level - the so-called 'soft legacy'.
But research into the 'soft legacy' of the 2004 Athens Olympics by Dr Sakis Pappous, of the University's Centre for Sport Studies [1], shows that the Games failed to spark a sustained increase in people taking part in a sport or other exercise activity.
Dr Pappous said: 'There was a short-lived increase in sports participation in Greece between 2003 and 2004 of six per cent. However, five years after the Games, the percentage of people saying they exercise regularly had plummeted by 13% to a level that was significantly lower than even the period before the Games.
'Moreover, it is not even clear that the short-lived increase in those exercising regularly was down to the Games effect as Greece won the UEFA European Football Championship in that year, which may have influenced sports participation.
'But what is evident from the statistics is that rather than producing a lasting impact on a generation of people who are excited about sport, the Games in Greece had at best only a temporary impact on participation in sport and physical activity.
grass-roots sporting legacy should be a top priority
'The data for the Greek population suggests that, if a broader strategy towards an active lifestyle is not implemented, then sporting excitement on its own will not sustain participation. In fact, there may be a reduction and possibly a 'rebound effect', where participation drops to levels lower even than during the pre-Olympic period,' warned Dr Pappous.

Organisers of the 2012 London Games have established that the grass-roots sporting legacy should be a top priority and increasing participation in sport is a key legacy promise, said Dr Pappous.

'In that respect, it will be really interesting to see if London organizers achieve their ambitious plans and manage to turn the UK into a more active nation, or whether the results will have the same firework effect that we found in Athens 2004, where participation increased dramatically in the short-term, but was not sustained.

'Will the enthusiasm for sport extinguish at the same time as the Olympic flame is put out in London? We will have to wait and see,' said Dr Pappous.