10/9/2015
NowWeMOVE and World Heart Day partner again to promote heart-healthy environments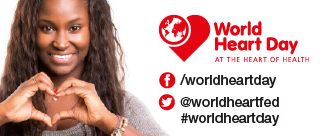 Opportunities to create heart-healthy environments are all around us – at home, at work and at play. And you can discover them for yourself this September by joining in MOVE Week and World Heart Day.
Last year, the NowWeMOVE campaign and the World Heart Federation partnered to celebrate the start of our hallmark events, MOVE Week and World Heart Day, on the same day – 29 September. Our cross-promotion helped contribute to massive increases in participation: double the number for MOVE Week and 35% more for World Heart Day.
This year the timing of our events may differ but our cross-sector collaboration will remain the same. With recent research from ISCA/Cebr showing that 33,400 cardio-vascular disease related deaths in Europe could be avoided by increasing individuals' physical activity levels by 20%, the evidence is clear that the promotion of physical activity and heart health go hand-in-hand.
What's more, the World Heart Federation notes that "Too many people are 'trapped' in environments that predispose them to CVD." That's why the NowWeMOVE campaign and World Heart Day are raising awareness of ways to turn our daily environments in to active spaces
Create your own active spaces with NowWeMOVE and MOVE Week
Promote your heart-healthy environments on social media for MOVE Week and World Heart Day
The World Heart Day takes place every year on 29 September.
MOVE Week 2015 is happening across Europe between 7-30 September, coinciding with the first edition of the European Week of Sport. Each country can choose a week during this period to hold MOVE Week. Contact your National Coordinator to find out the MOVE Week dates for your country.
MOVE Week will also happen in Latin America, from 19-27 September in Brazil and 20-27 September in other countries including Argentina, Colombia, Peru and Uruguay.