15/2/2019
Nordic walking a surprise hit in sunny Barcelona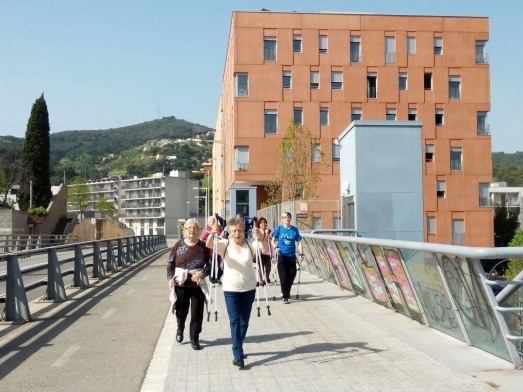 The Mediterranean streets of the Catalan capital would not be the first place that came to mind when someone begins to talk about Nordic walking. However, thanks to an initiative born out of the MOVEment Spaces project's local experimentations, this low-impact, healthy way of being active (created in the heart of Finland) has been transferred seamlessly to Spain!
MOVEment Spaces partners UBAE and the City of Barcelona started the project to help introduce an easily accessible physical activity to hard-to-reach populations, targeting three of the most deprived areas of Barcelona. The secondary aims were to encourage health professionals to actively prescribe physical activity more often, and to promote exercising in public sports centres and urban locations.
The first step was to create a network that enabled the project to engage the target group. This was done by partnering with local primary health care centres, sport organisations and sport centres, alongside Municipalities and Health Agencies.
The focus was on people aged over 50 who were physically inactive and at risk of developing non-communicable diseases or making their conditions worse. Doctors at primary health care centres – after being trained in relaying the benefits of physical activity to their patients – prescribed physical activity to individuals with different pathologies such as high blood-pressure, obesity and diabetes. The three different groups of participants were prescribed Nordic walking in a group once a week for 60 minutes, being led by a specialist instructor.
Through this strong partnership between the health centres and sports organisations, 81 of the 120 participants across the three groups were evaluated in regards to the impact of the activity to show both how effective the activity was and to examine whether it would be sustainable across a wider segment of the population.
The project found that while the average age of those involved was close to 70, the programme showed that the participants still discovered new and accessible places to be active, such as the beach or local hillside, and also were made more aware of the local public sports centres available to them.
Having an expert instructor working with them was well received, and the groups worked well together. The positive atmosphere and the friendships they made encouraged the participants to continue the programme after the MOVEment Spaces pilot.
Of the 120 people who started the programme 101 finished it (over 80%), and half of those who completed the programme were there for every single one of the sessions. To be even more effective going forward there is intention to, from the results of the pilot, increase the amount of time spent on the sessions, in addition to varying the intensity of the activity.
The programme was such a success that the City of Barcelona is considering keeping it running for 2019… and hopefully more cities around Spain get on-board to get people moving for their health!
By Alexander Appleyard-Keeling, ISCA