1/5/2018
No Elevators Day triples reach with first global edition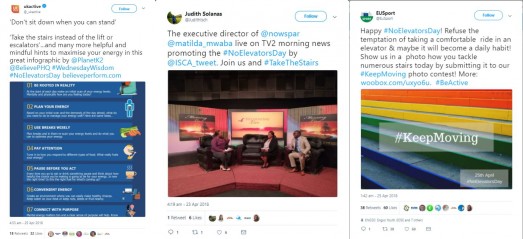 No Elevators Day went global this year and on 25 April activities supporting the campaign reached around the globe on social media. Supporters ranged from Olympic champions to Sprite's headquarters in Greece, and from the Social Service of Commerce in Brazil (Sesc) to the European Commissioner for Health and Food Safety Vytenis Andriukaitis. There were events organised in Europe, Africa, Asia, South America, Central America and the Middle East!
From a social media perspective the scope of engagement across a number of platforms reflected the physical uptake of the initiative around the world. On Twitter and Instagram alone the campaign had over 2.5 million impressions and a reach of over 2 million. On Facebook the campaign had over 1.2 million impressions, and over 20,000 people joined in the action by liking, sharing, commenting on or registering an event.
A big part of the social media success was its Thunderclap campaign, which reached over 1.5 million people, a massive increase from the 100,000 reached in 2017. The overall Twitter reach and impressions also doubled last year's. On Facebook 800,000 people were reached in comparison with less than 100,000 last year.
Overall the estimated social media reach increased from around 1 million to 3 million.
The result of this? Far more people around the world have been made to think about how small changes to their daily lives can have an positive impact on their health, activity levels and wellbeing.
None of this could have been achieved without the support received from all corners of the globe, so thank you for being part of the movement!
Save the date for next year's No Elevators Day: Wednesday 24 April
http://no-elevators-day.nowwemove.com/