19/4/2018
No Elevators Day reveals simple solution to a complex problem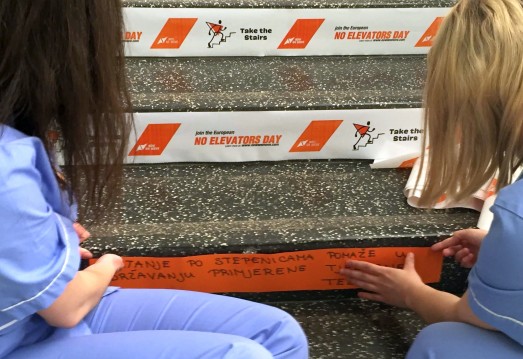 For immediate release – Copenhagen, 19 April 2018.
The world is sitting on a physical inactivity time bomb. Who can defuse it? The answer could be right in front of us – and it costs nothing. This week the WHO and politicians from 43 countries called for institutional actions to reduce premature deaths from non-communicable diseases (NCDs) by 33% by 2030. Next week, No Elevators Day on 25 April will highlight that ordinary citizens have the power to take action right now with an easy way to add physical activity to a busy working day.
No Elevators Day is part of the International Sport and Culture Association's (ISCA) NowWeMOVE campaign to get 100 million more Europeans active by 2020. Now the initiative is expanding worldwide and events are set to take place in Asia, Africa and Latin America as well as Europe. Voluntary event organisers will seal off elevators and escalators in office buildings and public spaces to nudge passers-by to take the stairs instead.
Physical inactivity is the fourth biggest risk factor for developing life-threatening NCDs and there is growing evidence that physical activity is a simple solution to the complex problem of finding effective interventions.
No Elevators Day aims to show busy workers in urban areas who are at a great risk of developing NCDs that opportunities to move every day are free and all around them. Getting 15 minutes of their recommended daily dose of exercise can be as simple as taking the stairs rather than the elevator or escalator throughout the day.
ISCA, its partners and members have extended an open invitation for individuals and organisations to join No Elevators Day by voluntarily closing some of the elevators and/or escalators on their premises on 25 April. Those who register online can download promotional stickers and sealing tape to raise awareness for the day. All activities under No Elevators Day title are voluntary and take into consideration the accessibility requirements for people with disabilities and medical conditions.
Supporters of No Elevators Day in 2018 will include:
20 Members of European Parliament and the Commissioner for Health and Food Safety Vytenis Andriukaitis will do promotional activities with ISCA the Parliament building in Brussels from 24-26 Apri
Major international companies including Amazon in India and ING Bank in Belgium
Public institutions, NGOs and campaigns such as the Irish Heart Foundation, Vilnius City Municipality in Lithuania, Leon City in Spain, the Ministry of Sport, Youth and Child Development in Lusaka in Zambia, and Active Working Group's On Your Feet Britain day
Universities such as Maastricht University in the Netherlands, City of Glasgow College in Scotland, the University of National and World Economy in Bulgaria and UTAR University in Malaysia
A list of participating cities and organisations is available at http://no-elevators-day.nowwemove.com/ and https://t.co/ukcoUnmD1D
Quote from NowWeMOVE Coordinator for Europe, Laska Nenova:
"We started the European No Elevators Day in 2015 to give busy people an easy way to be active and help their colleagues and communities get more active every day. Backed by the success of the first three editions we are now rolling it out globally. The international dimension of No Elevators Day allows us to show that this initiative can be adapted all around the world and we can all step up to defuse the inactivity time bomb."
Find the ISCA/Cebr report on the Economic Costs of Physical Inactivity in Europe (the "inactivity time bomb") at http://inactivity-time-bomb.nowwemove.com/
Press contacts
Rachel Payne, ISCA Communications Manager: +45 52 79 45 09 rpa(at)isca-web(dot)org
Laska Nenova, NowWeMOVE Campaign Manager: +359 888 524 158 ln(at)isca-web(dot)org
Follow the day on Twitter
https://twitter.com/isca_tweet
#NoElevatorsDay #TakeTheStairs