22/3/2018
No Elevators Day events planned on 4 continents:
Registration still open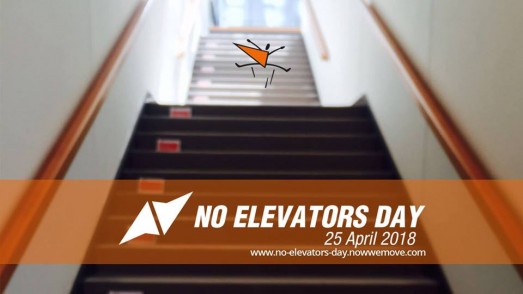 The fourth edition of No Elevators Day is fast approaching, and this year promises to be bigger than ever before. That's because on 25 April 2018 the event is going global, which means that no matter where you live you can take part in this exciting and invigorating awareness-raising event. Events have already been planned all around the globe, from Pakistan to Malaysia and Zambia to Brazil!
You can register an event here and join the official group or event to network with other event organisers around the world.
As part of the event this year ISCA will be visiting the European Parliament in Brussels again to share the day with some of the EU's most keen stair-climbing ambassadors. Over 20 MEPs and European Commissioners have already confirmed that they will be involved in a special event for No Elevators Day in the European Parliament. ISCA is supporting the European Parliament's own 'Stairs Health Campaign' in connection with No Elevators Day.
One of the youngest groups of collaborators for No Elevators Day are in Spain, where numerous schools across three regions have come together to promote 'No Elevators Day 4 Schools in Spain'. The students will translate posters, banners and communication documents from English, paint and draw communication resources for the day, scientifically analyse the calories burned by climbing stairs during the year, accumulate metres climbed among the entire educational community and, of course, celebrate No Elevators Day by climbing as many stairs as possible. All while running a fundraising campaign and hopefully encouraging as many as 100 schools and 50,000 students to engage with the event!
If you can't be part of No Elevators Day on the day, you can still show your support by joining our Thunderclap on social media. We need at least 100 supporters to share a simultaneous message about the event on the day. By supporting the Thunderclap, you can help raise awareness of the fourth annual No Elevators Day, and it is a one-time automated message that will appear on your Twitter, Facebook or Tumblr page on No Elevators Day.
Support the No Elevators Day Thunderclap here