9/11/2015
New faces appointed to ISCA Executive Committee at General Assembly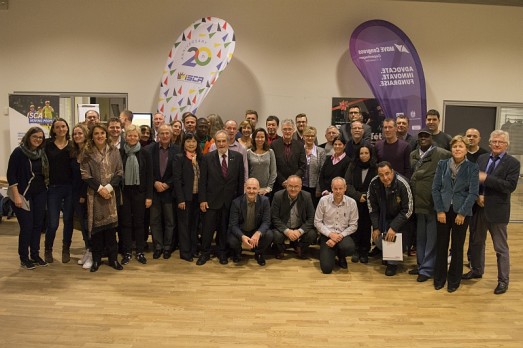 ISCA has gained 33 new members from Africa, Asia and Europe and four new faces on its Executive Committee following its General Assembly and elections on 5 November.
Philippe Manchu from founding ISCA member UFOLEP in France, Jean-Michel Villaume from Federation Francaise Sports Pour Tous in France, and Detlef Mann from Deutscher Turner-Bund (DTB, the German Gymnastics Federation) in Germany were voted in as new Executive Committee members.
They join Dr. Jayne Greenberg from the US President's Council on Fitness, Sports and Nutrition and Miami-Dade County Public Schools was appointed as the new ISCA North America Chair prior to the General Assembly. Toni Llop from UBAE in Spain also became an ISCA Vice President, replacing Herbert Hartmann, who decided to step down this year.
Villaume said he has been ambassador for ISCA in France for the past three years, and that his organisation is the "home of the French MOVE Week National Coordinator Jonathan Turner". He said he was looking forward to working more closely with ISCA and is considering plans to establish an ISCA academy for instructors.
Mann could not be present at the General Assembly, but Hartmann said he had been a long-standing member of the DTB board and brought extensive experience in international politics to the Committee. Machu also has strong political links in France and at an EU level as a member of the European Commission's new High Level Group on Grassroots Sport.
"As a member of the High Level Group on Grassroots Sport I was motivated to be part of ISCA to form a link between the two," he said.
Tributes to 20th anniversary and outgoing Committee members
ISCA President Mogens Kirkeby, founding Executive Committee Member Kestutis Levickis and Honorary Committee Member and first Vice President Ruggero Alcanterini paid tribute to ISCA's 20th anniversary and outgoing Committee members Hartmann and Jean-Claude Arnaud from USEP in France. Their presentations were colourful illustrations of ISCA's history, with Alcanterini's "real life slides" including an ISCA General Assembly flag from 2001.
Arnaud and Harmann also paid homage to their time at ISCA:
"I tried to bring my knowledge to ISCA and ISCA also brought me a lot," Arnaud said of his 12-year journey with ISCA. "I saw each change and now ISCA is a world organisation recognised at the highest level by institutions."
Hartmann said he would continue to be involved with ISCA through the MOVING Age Network and has fond memories of his experience as ISCA Vice President:
"I have been engaged in many committees and board, but at ISCA I have always felt in the best hands and appreciated," he said.
"I am glad to have been able to collaborate with the team during an extremely successful and dynamic development. My sincere wish is for this powerful development to continue and I hope to still be in contact with ISCA over this time."
Change to statutes
The members present at the General Assembly also approved a significant change to ISCA's statutes, voting for the General Assembly to take place once every two years rather than every year. This means that the next General Assembly will take place in odd years, starting from 2017.
Kirkeby said that the Executive Committee had recommended the change to "release financial and human resources in a concentrated effort to build up ISCA's continental structures. He said this would allow for more continental meetings to be held in even years, with the aim of strengthening ISCA's activities and member relations in Asia, Africa, Latin America and North America in particular.
Download the minutes of the 2015 ISCA General Assembly below.
By Rachel Payne, ISCA
Photos by Jérôme Guiraud, ISCA