25/10/2019
New Executive Committee appointed and 29 new members adopted at ISCA General Assembly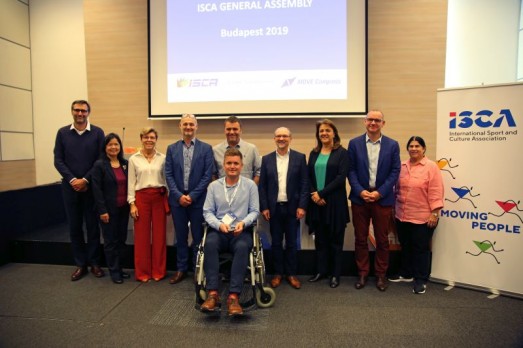 ISCA's Executive Committee and members gathered on Saturday 19 October, in conjunction with the 9th MOVE Congress in Budapest, Hungary, for the 2019 ISCA General Assembly and Elections. The members present appointed the ISCA President and Executive Committee for 2019-2021 and adopted 29 new members (listed at end of article), increasing ISCA's total membership to 261.
Mogens Kirkeby was re-elected as ISCA President, and Arnaud Jean from Union Française des Oeuvres Laïques d'Education Physique (UFOLEP) in France and Michael Tiemann from Deutscher Turner-Bund (DTB), Germany, were newly appointed to the Executive Committee. Philippe Machu from UFOLEP and Detlef Mann from DTB stood down from their Executive Committee posts.
ISCA Executive Committee 2019-2021 (pictured above)
President:
Mogens Kirkeby, DGI, Denmark
Vice Presidents:
Maria Luiza Souza Dias, Serviço Social do Comércio, Brazil (ISCA Latin America Chair)
Toni Llop Padilla, Fundació UBAE, Catalonia, Spain
Members:
Liliana Ortiz de La Cruz, Fundacion pro Deporte y Recreation para todos, Colombia
Arnaud Jean, Union Française des Oeuvres Laïques d'Education Physique (UFOLEP), France
Michael Tiemann, Deutscher Turner-Bund (DTB), Germany
Carlo Balestri, Unione Italiana Sport per Tutti (UISP), Italy
Jakub Kalinowski, V4Sport, Poland
Continental Chairpersons:
Siu Yin Cheung, Gymnastics Association of Hong Kong, China (ISCA Asia Chair)
Dr Jayne Greenberg, US Department of Health and Human Services, USA (ISCA North America Chair)
Ashraf Mahmood, Egyptian Sports Culture Association, Egypt (ISCA Africa Chair)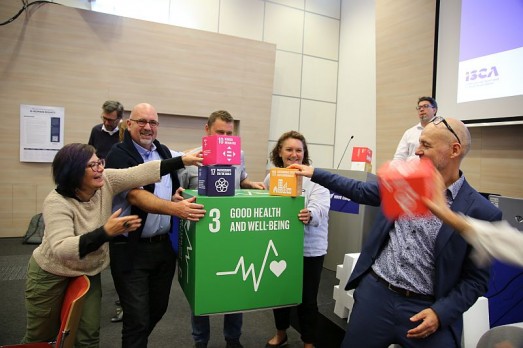 How can ISCA members contribute to achieving the UN's Sustainable Development Goals?
During the MOVE Congress, Dr Fiona Bull, the World Health Organization's Programme Lead on Physical Activity in the Department of Health Promotion, presented and led a debate on the roles the conference participants could take in helping to achieve the WHO's Global Action Plan for Physical Activity and UN's Sustainable Development Goals (SDG). The brainstorming and debate continued at the General Assembly with the UN's colourful SDG cubes being the centrepiece for icebreakers between ISCA members on the specific SDGs they would like to focus on in their work.
Putting the SDGs at the front and centre of the General Assembly underlines ISCA's commitment to pooling the strengths of and empowering ISCA members to find solutions to global challenges together.
"At ISCA we try to identify the major international trends and political developments of relevance to grassroots sport, and to put them into context for our member organisations from all over the world," ISCA President Mogens Kirkeby says.
"This is why we have put the Sustainable Development Goals up for discussion at the ISCA General Assembly. From the discussions, it is my clear impression that ISCA should continue looking at this as a relevant political and practical tool for our members, and ISCA should provide information, guidance and collaboration opportunities within the SDGs. The work will now pick up speed!"
New ISCA members
ISCA's member network is growing, and we will reveal a brand new membership offer in 2020. The following 29 organisations were adopted at the 2019 ISCA General Assembly:
National School University and Leisure Sport Federation (NSULF), Hungary
Peace Sports and Culture Foundation, Pakistan
Bridge Foundation, Ghana
Bobirwa Cultural Association, Botswana
Royal Society for Public Health, UK
Denmark Kabbadi Association, Denmark
Taken Aback Association, India
International Health and Fitness Association, India
Federacion Mexicana de Ciencias Aplicadas al Deporte, Mexico
World Hapkido Association Yudokwan, Iran
Sport and Leisure Clubs of the European Commission, Belgium
Pakistan Student Games Federation, Pakistan
European Network of Outdoor Sports, France and Belgium
Center of Research, Studies in Physical Education, Sport and Health, Kosovo
NGO CIGNUS, Brazil
ITTAF Tae Alcoy Sports Club, Spain
BikeTrial International Union, Czech Republic
Academie des Sports de Gohitafla, Ivory Coast
Sport and Culture Association of Trinidad and Tobago, Trinidad and Tobago
Czech Climbing Association, Czech Republic
University Federal of Pelotas, Brazil
Dominican Rope Skipping, Dominican Republic
Basketball Association of the Philippines, the Philippines
Martisans Sports and Cultural Foundation, Ghana
Burundi Rugby League Cooperative, Burundi
Youth Outreach Programme Cameroon, Cameroon
Federacion Mexicana De Deporte Escolar, Mexico
National Martial Arts Academy India, India
International Sport Organisation, Switzerland
The next ISCA General Assembly will take place in October 2021 in connection with the 10th MOVE Congress.
Catch up on the highlights from the MOVE Congress 2019
Photos: Kristine Onarheim, ISCA