29/4/2017
MOVE Week 2017:
One month to go!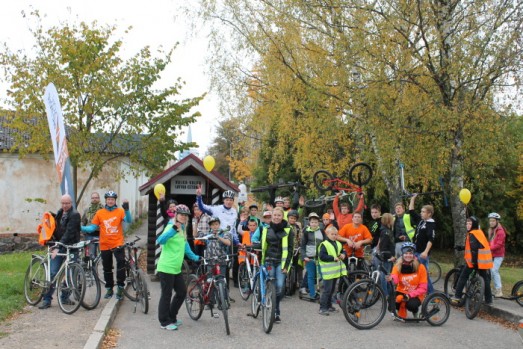 The spring molecules in the air are rejoicing, because MOVE Week is only one month away. What will be your signature MOVE for 2017? From 29 May-4 June, we encourage everyone to showcase their activity or event to their community. It's easy to be part of the week and we are calling for event organisers (MOVE Agents) to register on the official website moveweek.eu MOVE Agents can download our free resources from the website and use them to organise and promote their events.
NowWeMOVE Campaign Manager Laska Nenova says the sixth anniversary of MOVE Week is a great cause to celebrate the efforts of MOVE Agents in mobilising millions of people internationally.
"This year we are celebrating six years of MOVE Week as the flagship event of the NowWeMOVE campaign. With more than 14,000 events, MOVE Week has activated over 3.4 million participants all over the world, so this is a great impact which is a testament to the motivation of MOVE Agents in and beyond Europe to move people," she says.
"Our partners are delivering some exciting activities this year and we are expecting a lot of engagement from Italy, Malta (coinciding with the Presidency of the Council of the EU) and Bulgaria in particular."
The ISCA team hopes that MOVE Week will encourage even more people to change their physical exercise habits and become more active just in time for summer and vacation season to arrive.
Registering your event is easy: just go to the MOVE Week webpage moveweek.eu and let us know about your plans. If you are short on ideas, feel free to browse some of the diverse events that are already planned for this year.
If you haven't registered yourself as a MOVE Agent yet, the opportunity is here and now.
MOVE Week, which is the largest in its scale bottom-up grassroots sport initiative in Europe, went global in 2015, as 5 countries in Latin America joined in for the first time.
For more information on NowWeMOVE campaign in 2017, please, visit http://www.nowwemove.com/
For more information on MOVE Week, please visit http://www.moveweek.eu/
For contacts and further inquiries: [email protected]
Laska Nenova, NowWeMOVE Campaign Manager - Europe: +359 888 524 158
By Triin Ilves, ISCA