23/1/2019
MOVEment Spaces mean more people moving in Wroclaw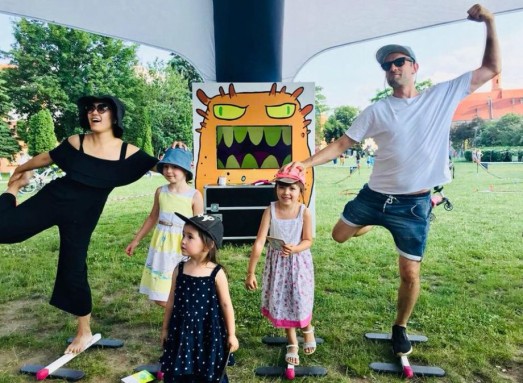 Photo: V4Sport, Poland.
ISCA's MOVEment Spaces project brought together five grassroots sport organisations from around Europe and their corresponding cities to collect, share and implement good practices that encourage participation in physical activity in public urban spaces. The opportunity to use their NGO-city partnerships to trial "Local Programme Experimentations" put the partners' solutions for activating local populations into practice. ISCA puts the spotlight on these partners, starting with Wroclaw, Poland.
Project partners V4Sport and the Wroclaw Centre of Social Development focused on using their the city's green spaces to encourage their local citizens to get involved in sporting activities. To achieve this, they needed to actively promote the city's green areas in diverse ways, after examining how people prefer to spend their time outside, and to inspire people who use the parks to participate in the activities prepared for them. The intention was that this would then encourage citizens themselves to create the next wave of activation programmes.
Across the city events were organised in 11 parks, "Active weekends" took place each week in May and July, with 10 smaller theme events interspersed throughout. These theme events ranged from Zumba to street hockey, and orienteering to frisbee, meaning there was something for everyone to be involved in. This ensured people from all walks of life and all ages would have something that inspired them to be active.
The most popular activities were those where parents and children could spend time together while being active. Bouncy castles were also very popular among children, while Yoga classes, active workshops, and archery stations were met with the most enthusiasm from adults. The range of events meant that 2400 people from across society of life got involved, with almost 100 disabled people, and over 100 people over the age of 60 attending.
Through forging key partnerships with local government, schools and clubs, while targeting hard to reach populations, the programme has increased people's awareness of how important being active is. It has also let citizens see the opportunities for starting their own park-related projects. The conviction that green spaces are important in allowing people to be active in a myriad of ways has also been strengthened across the city.
Going forward these types of events will continue to be implemented, and a database of partners who are willing to engage in these activities has already been established to keep the initiative going.
Hubert Ogrodowczyk from V4Sport was impressed by the fact that, "A little change can create a big impact. Simply by introducing some interactive, colourful equipment we were able to attract many people to participate in the activities we delivered in Wroclaw's parks over the summer of 2018. I truly hope we have inspired people to be more active every day, especially amongst family members."
By Alexander Appleyard-Keeling, ISCA