28/5/2021
Move For Fun pilot aims to get disadvantaged children moving in Poland and the UK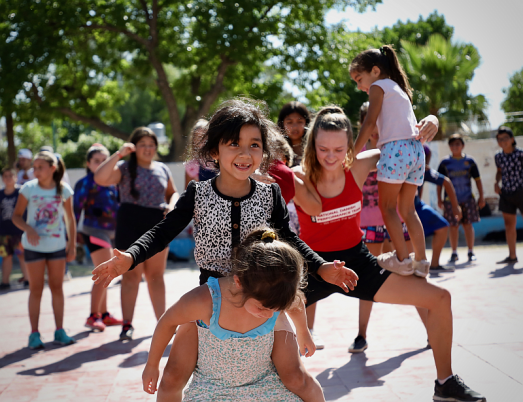 Two ISCA members are set to roll out a successful Danish initiative for vulnerable children in Poland and the UK in the second half of 2021 in a new international partnership pilot led by ISCA, our Danish member DGI and Novo Nordisk.
Move For Fun is based on a concept developed by DGI called Jump4Fun, which started in 2013 as a special initiative for vulnerable children who did not usually participate in traditional sporting activities and is now being implemented in 53 sports clubs in 26 municipalities.
92% of children who take part in the programme say they are happier when they move, and this was a strong sign of the potential to test the initiative in other countries, DGI President Charlotte Bach Thomassen notes.
"At DGI we have extensive experience and knowledge of what motivates children to be active. The Jump4Fun activities are designed for inactive and vulnerable children to take part in social sporting activities in their leisure time. We are thrilled that in this collaboration with Novo Nordisk and ISCA we can export the programme to other countries and customise it to their local needs," she says.
ISCA members V4Sport in Poland and Youth Sport Trust in England are set to start their 18-month pilots and the goal is to engage 10,000 children in disadvantaged communities. Move For Fun aim to introduce children aged from 6-12 years to fun activities that are easy to take part in. The activities will be delivered in schools as part of the lessons or as an extra-curricular activity.
ISCA and the project partners see this as only the start of the initiative's expansion, and are looking at further opportunities to test the model in other countries when they reopen after the Covid-19 pandemic.
"Working across sectors and sharing best practice is what ISCA is all about," ISCA President Mogens Kirkeby says.
"With Move for Fun, we are demonstrating this once more, based on a strong partnership and very engaged ISCA members to implement the pilots in Poland and the UK. I look forward to testing the model in further countries!"
Niels Lund, Vice President for Global Prevention & Health Promotion at Novo Nordisk also says he believes Move For Fun's cross-sector partnership is laying a strong foundation for its future roll-out.
"We hope that this partnership between DGI, ISCA and the local organisations will become a sustainable model for encouraging more children in disadvantaged communities to be active. Physical inactivity and health inequalities are global problems that demand new solutions by working across sectors."
80% of children across the globe are not active enough
The startling statistic behind the Move For Fun project is that 80% of children around the world do not meet the WHO's recommendation of one hour of physical activity per day. Disadvantaged children in particular do not move enough and this has serious consequences for their physical, social and mental health.
Increasing physical activity levels therefore has numerous benefits including preventing non-communicable diseases such as cancer, diabetes and cardiovascular disease. Move For Fun aims to increase activity levels among children by motivating them to participate in activities they enjoy and giving them a good experience with movement that encourages them to maintain their healthy habits throughout life.
And there is a great need for physical activity programmes that are designed to engage disadvantaged children, project coordinator and general manager for DGI's Danish National Performance Team (pictured above) Mette Holm Rod notes.
"We want to create a framework that enables attractive sport and recreational activities to reach children in the most disadvantaged neighbourhoods. We are also looking forward to being able to travel to visit some of the communities and take part in the activities. The Danish National Performance Team's energy is contagious and it helps to motivate the children we visit and inspire them to be active."
Depending on Covid-19 related travel restrictions in 2021, the Danish National Performance Team hopes to visit Move For Fun activity groups in Poland and England later this year.
The Move For Fun website has also now been launched and you can find out more about the project here https://www.dgi.dk/moveforfun