19/3/2019
MOVE Congress-inspired vision becomes reality as GAME Malta opens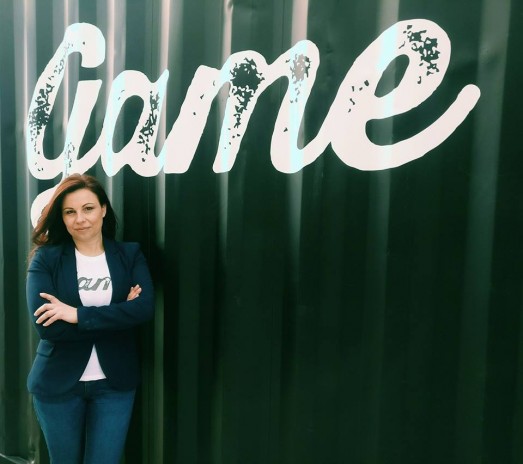 A journey that started in 2015 at ISCA's MOVE Congress in Denmark has now set sail in Malta! ISCA member MOVEMalta joined forces with the internationally renowned Danish NGO GAME after the two organisations' founders met at the congress at GAME's headquarters in Copenhagen, and secured an Erasmus+ Collaborative Partnerships grant in 2017 to establish a GAME street sport facility in Malta.
This February, GAME Malta was launched at the Malta College of Arts, Science and Technology (MCAST) campus in Paola, south-west of the capital Valletta. The media, local politicians and a large group of young Maltese Playmakers were there to celebrate the opening.
So was MOVEMalta founder and president, Cynthia Debono (pictured above), who had initiated the collaboration with GAME CEO Simon Prahm and his team to create a context-inspired outdoor hub that is in sync with the Mediterranean way of living, albeit being inspired by GAME houses in Denmark.
"GAME Malta is inspired by the need to create innovative community spaces that empower social cohesion and wellbeing," Cynthia says.
"The project re-thinks an under-utlised space within a College campus into an innovative and vibrant space promoting a myriad of street culture activities. Young people and students from different social backgrounds and interests are provided with a space where they can be active and socialise in the spirit of creative, fun and inclusivity."
On the MCAST campus, a 45ft recycled shipping container was transformed into a meeting hub branded as GAME BoX, promoting a myriad of street culture activities such as hip hop, breakdance, street soccer and graffiti art. This space has an urban look and feel, inspired by the way of life youths aspire to, with a participatory management model involving young people/students, lecturers and staff.
Simon Prahm said the launch of GAME Malta is a testament to the efforts of MOVEMalta's highly motivated staff.
"GAME Malta is becoming a reality," he said. "Thanks to everyone involved - especially the two cornerstones Cynthia and Charlo. Without your vision, dedication, and hard work this would never have happened. Looking forward to the onward journey!"
GAME Malta is hosting an open day this Friday for MCAST students to learn how to plan, prepare and organise a sports event. Find out more on the GAME Malta Facebook page
By GAME Malta and ISCA