19/10/2011
MOVE2011 opens its Gates today
The MOVE2011 Congress opened its gates today in Paris at the heart of the French sport. The congress organisers and partners are delighted to announce that the MOVE2011 welcomes 300 participants from 47 countries from around the world.
More than 50 speakers will address the congress in the coming days, including among others:
# Ms. Shellie Pfohl, Executive Director, President's Council on Fitness, Sports & Nutrition, USA
# Ms. Kelly Murumets, President and CEO of ParticipAction, Canada
# Ms. Amika Singh, Dr., University Medical Centre Amsterdam, The Netherlands
# Mr. Stefan Szymanski, Stephen J. Galetti Professor of Sports Management, department of kinesiology, University of Michigan, USA
# Mr. Alfred Rütten, Professor, Dr. and CEO of the Institute of Sports Science and Sports, University of Erlangen-Nuremberg, Germany
# Ms. Margarett Best, Minister of Health Promotion and Sport, Province of Ontario, Canada
# Ms. Despina Spanou, Principal Adviser for Communication and Stakeholders, Directorate General for Health and Consumer Policy (DG Sanco)
# Ms. Lori Sloate, Partnerships and Advocacy, WHO Centre for Health Development, Japan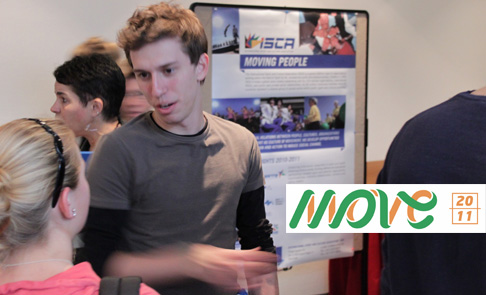 follow-us on www.move2011.info
Tonight's opening reception is hosted at the venue of the French National Olympic and Sports Committee, where
# Mr. Denis Masseglia, President, French National Olympic and Sports Committee
# Mr. Jean Vuillermoz, Deputy Mayor of Paris
# Mr. Jean-Marc Roirant, Secretary General, La Ligue de l'Enseignement
# Mr. Richard Monnereau, Chief of Cabinet, French Ministry of Sport
# Mr. Mogens Kirkeby, President, International Sport and Culture Association
welcome MOVE2011 participants.
The opening speeches set the scene for the coming four days of discussions, seminars and meetings, addressing the question of how the sport sector and its stakeholders can shape more active societies.
ISCA President, Mogens Kirkeby underlines that innovative partnerships reaching-out to non-traditional partners are very important, as they develop the sport organisations' capacity to transform and adapt sport offers to new target groups.
This innovation is essential to the whole sport sector in its ambitions to remain the most striving and contributing part of the civil society. It becomes evident that a joint effort to engage 100 million more people in physical activity promises enormous societal benefits in terms of health and social cohesion, as well as a great economic opportunity expanding markets for sporting goods and services to another 100 million people and beyond.
ISCA Secretary General, Jacob Schouenborg asserts that this ambitions vision is a magical opportunity for the sport sector to develop and he invites all stakeholders to join us in this effort.