2/10/2018
Lithuanian Sports University continues its FlashMOVE tradition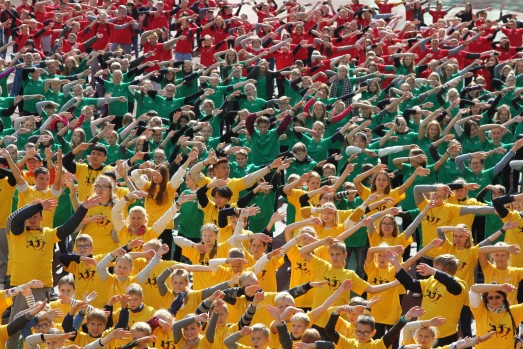 Lithuania's performance of the flash mob to promote the NowWeMOVE campaign, FlashMOVE, has gone from strength to strength, having been held for four years in a row and involving 700 people this year. It is a perfect case of "finding your MOVE", as the Lithuanian Sports University adopted the FlashMOVE in 2015 to kick off each new academic year. MOVE Agent Goda Mankute writes how her university celebrates the event.
Lithuanian Sports University's goal is to promote physical activity among its students. We try to provide the opportunity for young people to spend their leisure time in an active, significant and healthy way and to develop their sense of community through sport.
In 2015, we decided to include the FlashMOVE in our programme for the first time and we got a pleasant surprise as we gathered 500 participants. Great feedback and youth interest pushed us forward. Since then the biggest European flash mob event, FlashMOVE, has become a tradition to start the new academic year.
This year we joined the most active day in Europe as well. On 27 September more than 700 people from 11 different educational institutions moved according the same rhythm. In order to celebrate the Centennial of the restored Lithuania, we coloured participants in yellow, green and red colours.
All young people need recognition and sociability – they want to be a part of something and through this event they meet new friends and share good emotions. It also increases communication between high school students and university students and, most importantly, it encourages young people to spend their leisure time in an active way.
Goda Mankute, a MOVE Agent from Lithuania
The FlashMOVE is an open event started by ISCA's NowWeMOVE campaign. Anyone can use our flash mob ideas at any time to promote physical activity in their communities. Lithuanian Sports University is one example of several local organisations around Europe who are using FlashMOVE to raise awareness about physical activity.