30/6/2014
Key stakeholders in English grassroots sport applaud ACTIVE Network project at closing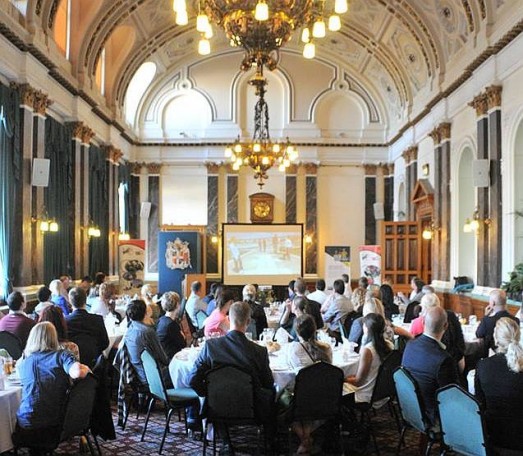 The Council House of the Birmingham City Council was a stunning backdrop for the closing of the ACTIVE Network project on 12 June. For the past 18 months, the EU-supported ACTIVE Network project has focused on facilitating the most valuable partnership in grassroots sport - the partnership between local authorities and sport organisations – so it was fitting that the closing addresses were delivered by Councillors Steve Bedser and Susan Barnett, from Birmingham City Council; Jane Ashworth, the CEO of StreetGames UK; Mike Diaper, the Executive Director for community sport at Sport England; and ISCA President Mogens Kirkeby.
Councillor Barnett opened the evening by bringing the value of active urban spaces to the fore, using the host city as an example of a place that encourages its citizens to be active.
"We're so fortunate in Birmingham to have so many parks, open spaces, green areas, places where people can come and take a walk, push a pram, play football with the children or grandchildren, or ride a bicycle," she said. "Many opportunities are here for people to become more active."
Ashworth turned the spotlight onto the local authority itself as a body that has the responsibility to create these active spaces and mobilise its community.
"The local authority has the right, the duty and the assistance to lead the campaigns in their area to improve the health of their residents and that is increasingly including participation rates in physical activity and social inclusion in sport," she said.
She stressed that local authorities and grassroots sport organisations need each other to reach their common goals, asking, in the context of StreetGames' work with youth at risk: "why would a local authority not want to harness our experience to help their disadvantaged youth? And, likewise, why would we as a charity not want to partner our local authority to better share our knowledge and understanding with more young people?"
Diaper used Sport England's alarming findings that over 12 million people in the country are inactive to emphasise why this type of partnership is so important.
"Our job is to pull people from this side over and get them to try to do sport at least once a week; to get those who are doing nothing to do something. For those who are doing too little, we can ask: how can we move you?"
Diaper praised the ACTIVE Network project's ability to bring municipalities and sport organisations from around Europe together for this cause.
"It's great to see so many countries come together to share best practices," he said. "There's so much to be gained through that".
Councillor Bedser also applauded the project partners' efforts during the project period, which have included implementing physical activity initiatives together and gathering a collection of best practice examples and recommendations, stating that "it's breathtaking what has been achieved by the ACTIVE Network project in 18 months".
Kirkeby summed up the value of continuing the ACTIVE Network of local authorities and sport organisations after the conclusion of the project.
"We may not have a billion pounds at our disposal, but through this network we can actively find that there are at least a billion ideas out there and it's our task to find, connect and contribute to this market of sharing."
The closing was followed by two seminar days featuring presentations from ACTIVE Network participants, such as Lena Knorr from the City of Stuttgart, Gerry Campbell from South Lanarkshire Leisure and Culture in Scotland and Yianna Nicolaou from Larnaca Municipality in Cyprus, and other local stakeholders in grassroots sport, including Karen Creavin from the successful Be Active programme in Birmingham and Dr William Bird from English health IT company Intelligent Health.
By Roxana Chiriac and Rachel Payne, ISCA
The ACTIVE Network project received support from the European Commission, Education and Culture DG, under the "2012 Preparatory Action in the Field of Sport". Topic: Awareness-raising about effective ways of promoting sport at the municipal level.