7/10/2016
Is there such a thing as an active spectator?
ISCA interviews ActiveVoice Project Partner Healthy Stadia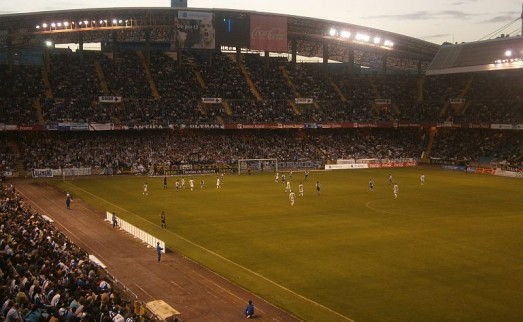 Photo by Eleana Velentza.
"Healthy Stadia are those which promote the health of visitors, fans, players, employees and the surrounding community… places where people can go to have a positive healthy experience playing or watching sport," is how the European Healthy Stadia Network describes the concept it is an advocate for.
The European Healthy Stadia Network is a partner of ISCA's ActiveVoice project looking into approaches to physical activity advocacy across sectors including facilities, active transport, education and health. The Network is an advocate of sport clubs, stadiums and governing bodies of sport as health-enhancing environments with the main aim to improve public health.
Matthew Philpott, Executive Director and Michael Viggars, Development Officer at Healthy Stadia talked to ISCA about how spectators can be active within stadiums, the idea of sports stadiums as health-enhancing environments and recommendations for advocacy activities focusing on the stadium as a setting.
Stadiums are quite well known, prominent and profiled venues. But visiting stadiums has not always been connected to healthy behaviour. Is there such thing as an "active spectator"?
There are a number of ways that spectators can already be considered as 'active'. On a match day, supporters have an arena to express their concerns, whether it be about the manager or the team's performance or to intimidate the opposition. But it is also important that professional sports clubs provide the means for supporters to 'voice' their opinions about how the club is operated. When developing health-promoting policies fans should be consulted alongside other stakeholders to consider the practical realities of implementation as well as to help them understand why a club is taking a particular course of action. To take the term more literally, spectators can indeed be active by choosing to walk or cycle to and from stadia. Sports clubs and their facilities have a lot to gain from encouraging active travel, including a healthier fan-base, a more active workforce who take less sick leave, through to less pressure on car parking spaces, improved air quality, a smaller carbon footprint and consequently an enhanced social responsibility profile. In addition to the above, more clubs are starting to engage directly with their fans and local communities on physical activity programmes, in particular specialised intervention programmes that are directly aimed at those members of the population who are predominantly inactive. Such programmes can be run on a sessional basis (e.g. walking football for 50+ year old men), or are part of a structured 12 week programme (e.g. the EuroFIT programme for inactive, overweight fans), whilst many professional sports clubs within Europe offer physical activity and sports programmes free of charge to young people at either club or school settings.
How can sports stadiums be health-promoting environments? What are the strategies some stadiums use to communicate healthy messages?
Sports stadia are uniquely positioned to influence the health and behaviour of fans, staff, volunteers and those living in the surrounding communities. Intelligent policies around food and nutrition, active travel, prohibition of tobacco usage, and limitations on the purchasing of alcohol can modulate the behaviour and choices made by fans attending matches, but in addition to this, can also promote healthier choices amongst the staff workforce (e.g. cycle to work schemes), and can act as a health promoting 'hub' for local residents through interventions such as drop-in health checks. There are several traditional methods for communicating with fans on a match day, including signage, P/A announcements and the use of large screens, but most large professional sports clubs now have a website and utilise social media and newsletters to communicate and disseminate key information. It is often the case that in addition the harnessing the power of a club's badge, team players are used to deliver key messages on the adoption of healthy lifestyles, for example the Eat For Goals! smartphone app (UEFA / World Heart Federation), and the FC Barcelona Ex-Smokers campaign (FCB / European Union).
How can sports stadiums have a lasting positive impact on their visitors after they leave the venue?
Whilst it is difficult to fully measure 'lasting positive impact' outside of follow up and longitudinal studies, there are a number of ways that professional sports clubs and stadiums can contribute, namely through policy work and fan/community outreach. Concerning policies and practices that modulate health behaviours, stadiums across Europe that implement No Tobacco policies provide a supportive environment that is conducive to smoking cessation that both maintains quit efforts by existing smokers in addition to motivate current smokers to try to quit. Similarly, if professional sports clubs can motivate individuals to cycle to and from a stadium on a matchday they may be more inclined to choose cycling when travelling to other destinations. Many clubs and stadium operators in Europe are increasingly focusing parts of their marketing on community and fan outreach projects which are delivered through club community trusts or foundations, running a wide range of health promoting initiatives across all age ranges, from primary school all the way through to active aging projects. Such projects are rarely in operation on matchdays, but fans and local communities are able to remain linked into clubs and their venues through health and social programmes during the week, positively impacting on health and simultaneously increasing brand loyalty to the club.
What more can be done from an advocacy perspective in this field – and by whom?
Advocacy efforts can and should involve a broad range of sectors including sports clubs and governing bodies of sport, but also local authority and national agencies for education, public health, transport, housing, environment and urban development. Whilst the desired outcome of Healthy Stadia initiatives is ultimately the promotion of healthier stadium environments, fans and local communities, the primary driver in gaining cooperation from stakeholders is the commercial contribution that Healthy Stadia policies and practices can help to generate for clubs and stadium operators. It is therefore imperative that a coherent business case is offered as part of the Healthy Stadia narrative, for example the reduction of cleaning and insurance costs through adoption of a tobacco–free stadium policy, in order to gain buy-in at executive level. Health and other social responsibility themes need to be viewed as integral to the corporate objectives of sports venues as opposed to simply something they 'ought to do', and therefore strong evaluation of interventions and policies, with a keen eye on social impact and value for money, should be well considered to strengthen advocacy activities within this field.
Healthy Stadia is an ActiveVoice project partner and is based in Liverpool, UK.
Find out more about the ActiveVoice project: http://www.activevoice.eu/