13/5/2019
ISCA welcomes Global Goals World Cup participants with fun and games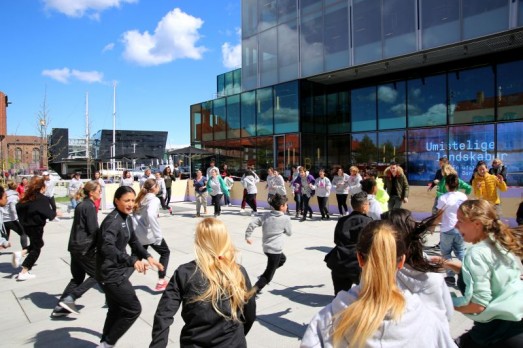 The Global Goals World Cup, celebrating opportunities for women and girls in sport and promoting the UN's Sustainable Development Goals, is happening on ISCA's doorstep this week. So what better excuse to get outside in the Copenhagen sunshine and welcome the 90 participants with an energiser, ISCA style?
ISCA Project Coordinator Maja Thormar led an active hour of fun and games for the 14 teams that will kick-off the Global Goals World Cup (GGWCup) outside the Blox architecture hub in the centre of Copenhagen tomorrow.
The GGWCup offers a combination of action, with 5 on 5 football games happening outside the building and inspirational talks on sustainable cities and green mobility, gender equality, new standards for sport events, and sustainable fashion running throughout the evening.
The unique event is described as "football meets activism, where all teams qualify by taking action for one of the UN's 17 Global Goals. The winner will qualify to play in the Final in NYC during the General Assembly of the United Nations in New York."
Find out more about the Global Goals World Cup in Copenhagen here
By Rachel Payne, ISCA
Photos by Kristine Onarheim, ISCA