13/5/2021
ISCA webinars now available on-demand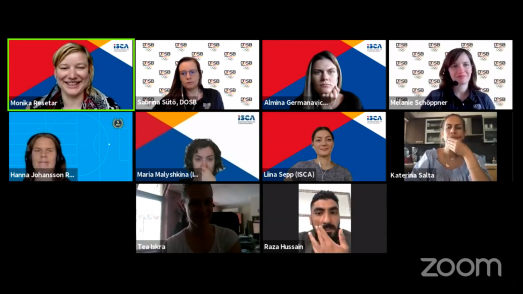 We've served up a feast of webinars in March, April and May for No Elevators Day, the European Mile and the Integration of Refugees Through Sport project. Now they are available to watch on-demand.
Here is a recap:
Integration of Refugees Through Sport webinars
COVID-19 – or when control and planning are overrated
Our first networking webinar was on the topic of COVID-19 and how it has impacted the work of sports organisations and clubs in their work with refugees. As we enter into 2021, going back to normal seems very far away and adapting to new normal might be the way to go. If there's something we learned from 2020, it is that planning and having things under control in times of a pandemic can be very hard, but with flexibility, creativity and cooperation, we can adapt.
Never Stop Learning!
This interactive workshop featured the German Olympic Sports Confederation, RF/SISU and StreetGames Gothenburg, and Croatian Taekondo club Jastreb: Never Stop Learning! The webinar is the second in the Integration of Refugees Through Sport series highlighting examples of good practice from both the speakers and participants.
No Elevators Day webinar
Active Stairs Design for No Elevators Day
With the speakers from ISCA/NowWeMOVE campaign, Placemaking Europe, Center of Active Design and Attivo Designs, this webinar covered topics such as integration of active design into everyday life, the link between placemaking and physical activity and practical tips to activate the stairs.
European Mile webinars
Organising running events for a charitable cause
Emma Pilgrim has been Derby County Community Trust's (DCCT) Fundraising and Events Manager for the past 6 years. As well as helping to scale the Derby 10K event up to 5000 participants, she helped develop DCCT's fundraising portfolio to not only raise unrestricted funds for the charity, but to support other charities with cash donations totalling up to £33,000 in an event year. How did she do it? Watch our webinar to find out.
How do you get every child to move every day?
Learn valuable tips and first-hand experiences in promoting physical activity to children from Daily Mile Founder Elaine Wyllie and JOGG project manager Patty Scholten in the second European Mile webinar hosted by ISCA.
For more ISCA online learning opportunities for grassroots sport and physical activity professionals, visit our online learning platform and our YouTube channel.