13/6/2019
ISCA's ActiveVoice online course to empower healthy lifestyle advocates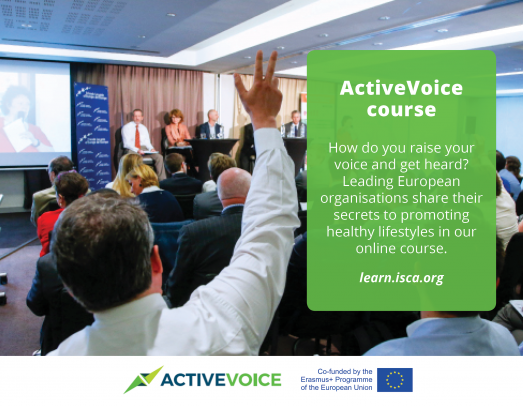 When you want to influence a change in the world, you need to be convincing. Sometimes it may be challenging to effectively communicate with decision-makers, and the physical activity sector is no different. That is why ISCA teamed up with various international organisations to create the ActiveVoice online learning course and help you and your organisation become better equipped to advocate for healthy lifestyles.
You will start the ActiveVoice online course by carrying out an assessment for your organisation's advocacy. The aim of this tool is to help your organisation understand how well it is performing in leadership in the field of health enhancing physical activity (HEPA), and where it could improve.
In the course you will learn about the purpose of advocacy as well as its principles and styles. One of the modules gives a detailed overview of HEPA, helping you understand its activities and policy documents. Your organisation will benefit from learning more about working with different stakeholders and fundraising for cycling, transportation and active mobility. Other modules will provide some insight on working with sport facilities, school sport and obesity prevention.
Upon completion of each topic you will receive a certificate, but above all a wealth of knowledge and advice from industry experts across Europe.
The ActiveVoice online learning course is available for free at https://learn.isca.org/.
It was developed under the EU Erasmus+ Sport Collaborative Partnership, the ActiveVoice project.