22/3/2018
ISCA President to present at EU Sport Forum today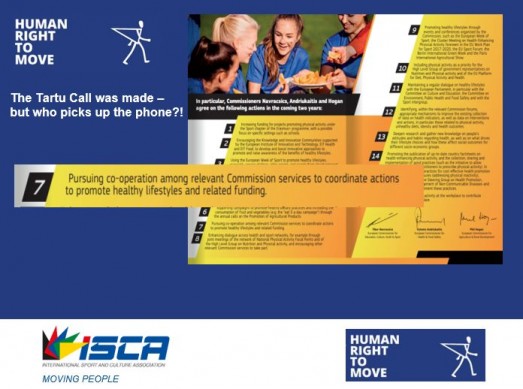 Follow the EU Sport Forum's live streaming today at 15:10 CET to hear ISCA President Mogens Kirkeby present in a high level session on the Tartu Call for a Healthy Lifestyle in Sofia, Bulgaria.
The Tartu Call for a Healthy Lifestyle was launched by three Commissioners last September and the high level session is the first public follow-up of the initiative.
The session will feature presentations and a panel debate among speakers from different sectors, who will give their perspectives on how to promote healthy lifestyles tackle the global challenge of physical inactivity. Sitting alongside Mogens Kirkeby on the panel will be Didier Besseyre, President of the European Federation for Company Sport, Sigrid Ligné, Director General, Union of European Soft Drinks Associations (UNESDA), and Sónia Paixão, representing the city of Lisbon.
Watch the presentations and panel debate live from 15:10 CET
We will post Mogens Kirkeby's presentation slides here after the event – but here is a video preview