26/11/2018
ISCA Awards for MOVEment Spaces presented to winners in an array of colour and fun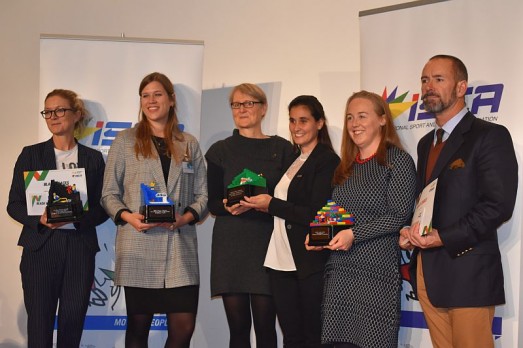 The ISCA Awards ceremony wrapped up the programme with a colourful and – at times – unpredictable presentation of four awards recognising partnerships who have turned urban spaces into active spaces.
The winners were Fitness-Locations from DTB in Germany (green space – parks), Looking for a Place to Dream from GAME Lebanon (black space – asphalt or paved areas), and Bathing Zones from the City of Copenhagen, Culture and Leisure Department in Denmark (blue space – water), and the People's Choice award went to Healthy Ireland: Healthy Cities and Counties, who created Swim Distance Markers in Galway Bay.
Four Lego trophies customised to the black, green and blue space themes were presented to Pia Pauly and Luli Gonzalez from DTB, Ida Brix from GAME, Mira Kirk Hedemann from the City of Copenhagen, and Fiona Donovan from Healthy Ireland: Healthy Cities and Counties, who all took part in the seminar and presented their partnerships' award-winning initiatives at the MOVEment Spaces closing meeting.
ISCA's Youth Officers also turned heads at the ceremony by delivering the awards by skateboard, in swimming trunks, in yoga tights, and in much-too-familiar David Hasselhoff-esque red boardshorts, before leading an impromptu ISCA-disco dance full of moves that epitomise "everyday" physical activity: from shovelling snow, to picking fruit to moving the lawn.
Read more about the award winners
Watch the full ceremony, including the ISCA-disco, on the ISCA Facebook page