24/5/2018
ISCA Awards 2018 call for applications:
Get recognised for your work in creating MOVEment Spaces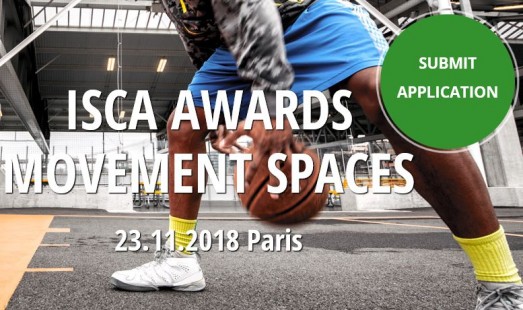 We want to celebrate your work. So in 2018, ISCA is awarding partnerships who have reimagined and transformed urban spaces into active spaces. We call these spaces MOVEment Spaces because they enable citizens to enjoy their human right to MOVE.
We are calling for applications for three ISCA Awards categories for 2018: Green spaces (parks and other green areas), Black spaces (paved and asphalt spaces, including squares and roads) and Blue spaces (anywhere there is water, such as lakes, rivers or harbours). Our expert panel will award partnerships that demonstrate well-documented proof of success in working towards a common vision, meeting their objectives, having an impact on their communities, and exploring potential for their initiatives to be transferred to or replicated in different contexts.
Applications close on 10 September 2018 and the winners will be presented with their awards in Paris on 23 November. Feel free to share the call with exemplary partnerships in your network.