10/4/2019
"I eat stairs for breakfast":
Bulgaria aims for 500,000 No Elevators Day participants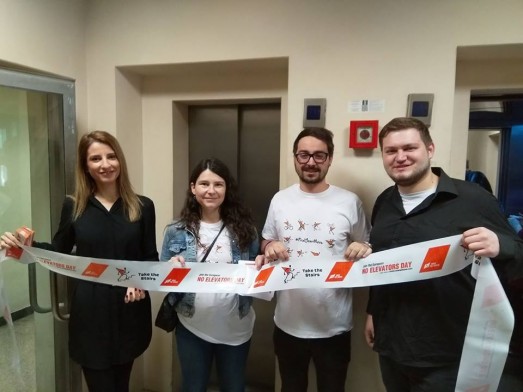 On Wednesday 24 April the BG Be Active team will encourage Bulgarians to choose the stairs instead of elevators to demonstrate how easy it is to be active in our daily lives. And this year, No Elevators Day in Bulgaria is being supported by the Bulgarian Ministry of Health, the Ministry of Education and the Ministry of Youth and Sports. And that's just the beginning – Bulgaria's NowWeMOVE National Coordinator, Bilyana Mileva from BG Be Active (pictured second from left), shares how her NGO is gathering support for No Elevators Day from across the nation.
Several big companies have also expressed their interest the initiative and are ready to motivate their employees to move on the day and start a new healthy daily habit. BG Be Active has also engaged some of the largest companies in Bulgaria, with a huge number of employees, such as NN Bulgaria, Telus, Vivacom, Progress, and Doverie. For instance, NN Bulgaria has more than 15,000 employees alone, аt Vivacom's facilities there are over 2,000 employees, Telus (pictured below, taking part in No Elevators Day 2018) has more than 2,800 workers and Progress more than 500.
The main goal we have set for 2019 is to motivate 500,000 community members to choose the stairs. One month before the event we had already received confirmations from event organisers in Plovdiv, Sofia, Varna, Silistra, Shumen, Stara Zagora, Burgas, Vidin, Smolyan, Montana and many others, who have who have registered the events planned in their local communities on the No Elevators Day website.
Brand new resources for Bulgarian event organisers
BG Be Active's website has been updated with new information, including a "Resources" section with brand new promotional materials that are ready to download.
We also invite our MOVE Agents and partners to join our Facebook event where we share updates and information.
We are creating a video invitation for joining No Elevators Day, and we will put it on social media to engage more people to take the stairs. To create excitement in the lead-up to the event, we have announced a challenge inviting people to film a creative video using the stairs and sharr it with the hashtags #Noelevatorsday and #Ямстълбизазакуска (#Ieatstairsforbreakfast).
Once more, the Bulgarian media have also responded positively to the campaign so we expect broad media coverage across the country.
Find out more about No Elevators Day and how you can get involved