22/4/2020
How will you #UseTheStairs on 29 April?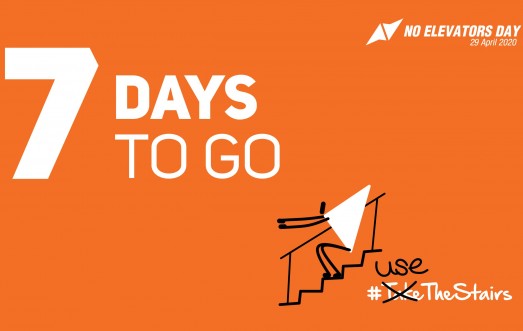 Only one week is left before 29 April 2020, which marks No Elevators Day – a global initiative motivating people to be physically active in everyday life. As almost everyone around the globe continues to self-isolate and/or stay at home during the lockdown, we are prompted to find new ways to move people. This year, the sixth No Elevators Day has expanded its original motto from #TakeTheStairs to #UseTheStairs.
No Elevators Day has always been a fun and easy way to highlight the importance and accessibility of physical activity. We at ISCA are excited to remind you that this time, the event looks different than it usually does. It is not taking place in offices or shopping malls or any other public buildings. No registration and no preparation are required – just your enthusiasm and desire to combat physical inactivity.
On 29 April we invite you to join the digital No Elevators Day by sharing how you can #UseTheStairs to exercise. Upload your pictures and videos on social media with two hashtags #UseTheStairs and #NoElevatorsDay, and encourage your audience to share their ways of using the stairs to be active.
Let's spread the call about the importance of staying active even under lockdown and challenge people to #UseTheStairs on 29 April 2020.
Read more about No Elevators Day and how you can join in at the official website or Facebook event.
By Maria Malyshkina, ISCA