7/9/2016
Guess who's riding the fifth-longest distance during the Journey of Hope?
Clue: She's Slovenian and you may know her well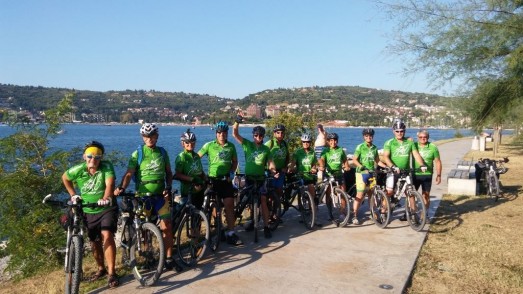 The International Sport and Culture Association's Head of Projects, Saska Benedicic Tomat (pictured left), has been having an active month. And that suits her perfectly. But this one has been an even bigger adventure, as she is the person who will ride the fifth-longest distance in the Journey of Hope – only being surpassed by the team itself.
It all started when she joined the Journey of Hope team (along with ISCA President Mogens Kirkeby) for the first three days from Copenhagen to Aarhus. On arriving in Aarhus, she said, "I just want to keep going!" and reluctantly returned to Slovenia where she lives and works.
She knew she would return to join the Journey of Hope team again at the end of the tour in Slovakia. But that still wasn't enough. So she gathered 11 friends she has been cycling with for nine years to support the Journey of Hope with a 340km tour through Slovenia, Italy and Croatia.
"This is a Slovenian passion and habit," she says. "Because we have a small country, we can visit three countries in three days by bike."
If cycling is habit forming for Slovenians, how is it that they become addicted? Saska attributes this to the effect cycling has on their bodies and minds.
"I have a unique feeling on a bike that gives me freedom wherever I am or wherever I go. Biking brings people together and the Journey of Hope is the right way to bring people together to feel free. It has the same effect on all of us: It improves our mental, physical health, we socialise while biking and we feel better about life. Our wellbeing increases and it just makes us happy. It feels great to be on the bike and with other bikers in the nature."
Riding together with others is an experience she compares with teamwork in everyday life, with its rewards and challenges being part of the journey.
"In the last few years biking with a team, I see that bringing a team together is simple, but staying with the team is hard work. And living with the team is a culture of movement and life. Our culture is strong when we bike with each other and for each other. The goal is not to be happy by the end of the tour; the goal is to be better today (at this moment) as a team. Isn't it the same in real life as well?"
The Journey of Hope team will reach Kosice in Slovakia on Saturday for the official opening of the European Week of Sport
By Rachel Payne, ISCA