14/5/2019
Get into the game at the MOVE Congress 2019:
Call for Innovation Alley exhibitors and presenters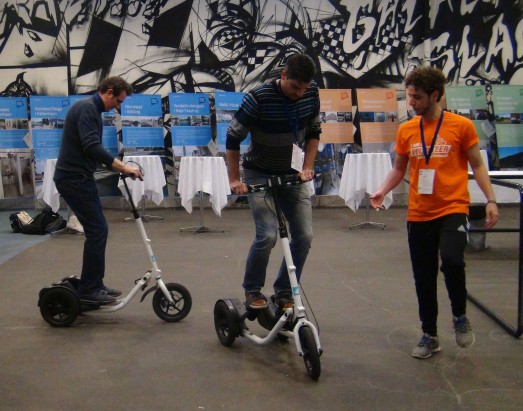 Are you changing the game for members of your community with activities or technologies that are getting them MOVING? Did we hear a "yes!" or even a "hell yeah!"?
Then ISCA and our organising partner, the Hungarian School, University and Leisure Sport Federation, invite YOU to submit your very own physical activity initiative or technology that you want to showcase to up to 500 MOVE Congress participants in Budapest from 16-18 October 2019.
The MOVE Congress Change the Game: It's Your MOVE promises to be our most interactive conference yet, featuring keynote speakers who are shaking up the grassroots sport and physical activity sector by using anything from gamification to powerful campaigns, placemaking techniques and even superheroes to get more adults and kids active.
Innovation Alley is an exhibition fair that will run throughout the conference. Placed next to the main auditorium, you will have a prime opportunity to get in contact with other participants who share your passion for developing tomorrow's grassroots sport and physical activity approaches and equipment. Connect with sports clubs, municipalities, school staff, companies and funders who could help to take your great idea to the next level.
You can download the full call and application guidelines here or below to submit your idea for:
A hands-on exhibit, inviting participants to come and try your physical activity or technology, including gadgets and equipment
A poster featuring your innovative approach to getting more people active in sport or physical activity, or research in this field
And/or
A 10-minute oral presentation of your innovative activity or technology in an auditorium that will seat up to 100 MOVE Congress delegates
The deadline for submissions is Saturday 15 June 2019. Submit your idea today or get in touch with the MOVE Congress 2019 Secretariat at [email protected] for more information. If you are a for-profit company, please get in touch with the Secretariat before submitting your application as special conditions may apply.
Visit the official website www.movecongress.com to find out more about one of the world's most active conferences.
Pictured above: Me Movers were a hit among participants (and organisers - see below, along with more highlights from previous Congresses) at the MOVE Congress 2015.