4/5/2017
Get active this MOVE Week 2017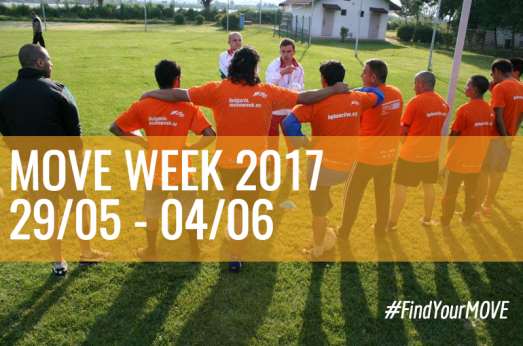 Whereas Darwin's rule claims that only the fittest survive, MOVE Week in 2017 supports all kinds of physical activity. Let's show the world that grassroots-level sport and physical activity is the sustainable way to get people moving.
This year, MOVE Week will take place from 29 May to 4 June. Initiated by ISCA, the sixth MOVE Week gathers a broad network of MOVE Agents (event organisers) and National Coordinators (main contact points for MOVE Agents), which include sports clubs, health providers, cities or towns, schools and universities, leisure centres, companies – any organisation or individual who is interested in MOVING PEOPLE!
We welcome everyone to think globally and act locally: get inspired by other ideas and implement them in your own community. This way, no one has an excuse but to join the MOVEment.
Michal Siewniak from Active East Herts in the UK tells us why he has been part of MOVE Week as a MOVE Agent since 2014:
"The MOVE Week creates an environment which helps to break down barriers, tackle social inclusion and improves community relations. The MOVE Week initiative aims to continue the great feeling of community and coming together that sport inspires and helps to create sustainable element to volunteering and sport participation. It also helps to raise the profile of clubs involved, recruits new volunteers and demonstrates the positive impact of sport and physical activity participation on our communities," he says.
With three weeks to go, it's now time to start planning. If you are unsure what would be the right event that would move people from passively sitting to actively participating, we have some suggestions:
1) Think of your surroundings: there might be a local sport facility, basketball court, or an open field that is made for physical activity and exercising.
2) All kinds of MOVEment are good: your event does not have to be overly complicated. Whether they are children and adults – they all want to play.
3) Find a suitable time for the target group: if you are organising an event for students, collaborate with the school. It might be possible to plan a school sport day. If you want to gather the whole community, an event on a weekend might be the best solution.
Register your event at moveweek.eu and download our free resources to help you get started.
European MOVE Agents, please feel free to contact your National Coordinator for more details.