23/9/2019
From promises to progress on Health for All:
ISCA signs NCD Alliance advocacy letter ahead of UN Universal Health Coverage meeting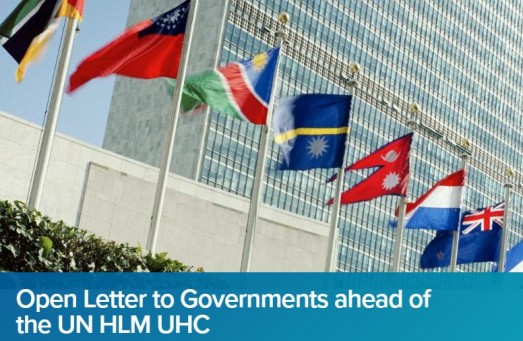 Today in New York, the United Nations General Assembly will host a high-level UN meeting called 'Universal Health Coverage: Moving Together to Build a Healthier World'. In lead-up to the meeting, ISCA has signed an open letter to governments, initiated by the NCD Alliance, urging them to focus on the meeting as a step towards action rather than being simply a platform for discussion on potential roads ahead.
"The High-Level Meeting on UHC should be a transformative moment for every single country, every person on earth. UHC is the single most powerful tool you have to improve lives, ensure fairness and stability, create opportunities for growth and to reach the 2030 Agenda for Sustainable Development. It will fail if you are not prepared to invest. You must go beyond promises," the letter states.
The high-level meeting is gathering heads of "state, political and health leaders, policy-makers, and universal health coverage champions to advocate for health for all", as described in a UN press release. Being a "champion" for health advocacy carries a responsibility to drive progress and "deploy tried and tested measures to improve wellbeing and reduce NCD mortality in line with commitments for 2025 and 2030", according to the NCD Alliance.
Bottom-up efforts also make a difference
In our sector, these actions are not chiefly being carried out by top-level leaders, but by bottom-up initiatives, as demonstrated by yesterday's Open Streets Day – a new NowWeMOVE campaign initiative supporting the EU's European Week of Sport and #BeActive message.
Open Streets Day began with an open invitation to local physical activity promoters in Europe (including NGOs and cities) to imagine what a local street or city space could look like if it was closed to traffic and opened to activities that get people active.
On the day, 116 events were organised in 84 cities in 29 countries on 5 continents (upon expressions of interest from non-European countries to join in) in connection with European Mobility Week, Car-Free Days and the European Week of Sport. These movements all rely on bottom-up support to make them happen, so the challenge for this top-level group will be not to lose sight on the potential power of civil society in putting plans into action.
Read the full open letter here and below