5/6/2019
Free MOVEment Spaces online course shares secrets to transforming urban spaces into active spaces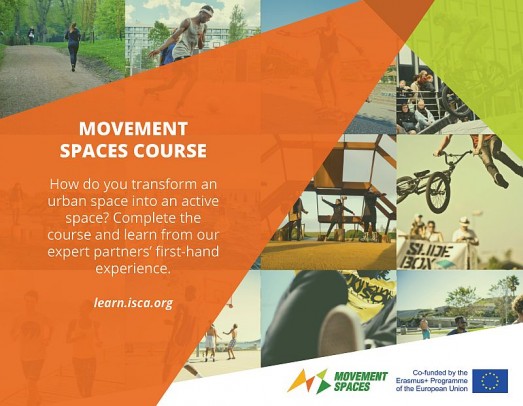 What are the key ingredients you need to transform urban spaces into active spaces? Discover your recipe for success by completing the MOVEment Spaces online course developed by the International Sport and Culture Association (ISCA) and our partners, including experts in urban planning, European cities and grassroots sport NGOs. The course can be accessed for free at http://www.learn.isca.org.
The MOVEment Spaces online course shares tips and first-hand experience from the experts on how to get started or to broaden the reach of your activities. The content is especially designed for grassroots sport and community organisations, local authorities and urban planners to learn how to secure support, identify relevant target groups and activities that can be delivered in urban spaces, and ultimately to measure the social impact of the activities.
MOVEment Spaces are places that encourage local community members to use their surroundings to be active. By creating accessible and safe places for people to participate in sport and physical activity, you can play an important part in boosting their health and wellbeing.
The learning content is divided into five topics that are essential factors in creating environments that offer individuals and community groups the greatest potential to lead an active life:
Advocating for physical activity and healthy lifestyle
Understanding the target group and organising activities for them
The active urban space
Securing cross-sector cooperation and partnership with different stakeholders
Measuring the impact of the active urban space
The course builds on the MOVEment Spaces online seminar, which gave exclusive insights from Danish frontrunners DGI, the City of Copenhagen and the Danish Foundation for Culture and Sports Facilities (LOA Fonden) into how local authorities and the grassroots sport movement can collaborate to take advantage of urban public spaces as new arenas for physical activity.
Visit learn.isca.org to register for the course and complete the modules at your own pace.
The MOVEment Spaces online course was developed under the Erasmus+ Sport Collaborative Partnerships project led by ISCA and partners including the Cities of Barcelona, Birmingham, Paris, Plovdiv, and Wroclaw, experts in urban facilities the Danish Foundation for Sport and Culture Facilities, DGI, International Association for Sport and Leisure Infrastructure Management IASLIM, and grassroots sport NGOs BG Be Active, StreetGames, Eurofitness, UFOLEP, and V4Sport.
More professional development opportunities you can't miss:
Want to test your own MOVEment Space initiative?
Try out a new activity or re-launch an existing one by organising your own MOVE Week event or Open Streets Day event.
Want to learn more about MOVEment Spaces and placemaking?
Join us at the 9th MOVE Congress in Budapest from 16-18 October 2019 for more first-hand insights into MOVEment Spaces, placemaking and rethinking urban spaces as active spaces in our special track dedicated to this exciting field of work. Tickets are now available at the official MOVE Congress website.