12/7/2017
First speakers confirmed for MOVE Congress 2017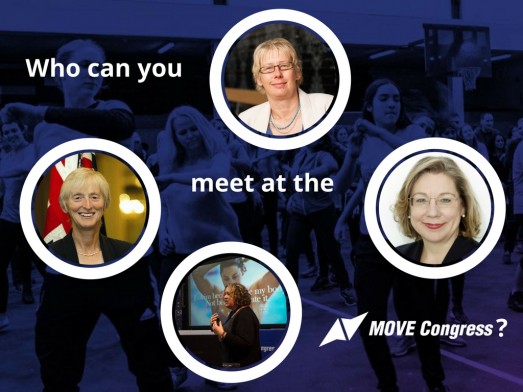 The first ten speakers are now confirmed for the MOVE Congress in Birmingham from 4-6 October 2017, and the line-up includes some of the most influential women in UK sport. Meet Sport England CEO Jennie Price, the FA's head of women's football Baroness Sue Campbell and StreetGames CEO Jane Ashworth, who will be keynote speakers in the Congress plenary sessions on active urban spaces, physical activity for hard-to-reach groups and holistic approaches to physical activity in schools.
Gil Penalosa, from the successful Canadian initiative 8 80 Cities, is the first confirmed speaker from outside Europe, and more international speakers will be confirmed in the coming weeks. Visit the official MOVE Congress website to see the programme and register by 31 July for an early bird discount.
Who can you meet at the MOVE Congress 2017?
Welcome session on 4 October at Birmingham Council House
Councillor Ian Ward, Deputy Leader of Birmingham City Council, UK
The Deputy Leader of Birmingham City Council, Councillor Ian Ward, will officially open the MOVE Congress 2017. Once a Cabinet Member for Leisure, Sport and Culture, Councillor Ward has been a member of the City Council for 22 years and is a board member of joint or external organisations covering economic, educational and sporting facilities in Birmingham.
Mogens Kirkeby, ISCA President, DK
Since being elected as ISCA's President in 2007, Mogens Kirkeby has taken on a politically active role to get more organisations, at both the community and governmental levels, to support the NowWeMOVE campaign vision of getting 100 million more Europeans active by 2020. The campaign has now extended to Latin America and his advocacy work to get more stakeholders to help their citizens exercise their "Human Right to MOVE" is now integrated into all of ISCA's activities.
Plenary sessions on 5 October at Birmingham Conference and Events Centre
Jennie Price, CEO of Sport England, UK
This year, Sport England CEO Jennie Price was awarded a Commander of the Order of the British Empire (CBE) in recognition of the efforts she and her organisation, Sport England, have made in working "towards an active nation". To address the growing problem of sedentary behaviour in the UK and to drive participation in sport at a community level, Price has led initiatives such as the successful This Girl Can campaign and the London 2012 Olympic legacy promise to get more "ordinary citizens" active.
Karen Creavin, Birmingham City Council, UK
At the MOVE Congress 2015, Karen Creavin led one of the most popular sessions on women in sport and the This Girl Can campaign. Despite some of the toughest socio-economic challenges, her city, Birmingham, is now leading the way in tackling physical inactivity and access to affordable and attractive facilities with initiatives such as Active Parks, Big Birmingham Bikes and Active Streets. Creavin will introduce the MOVEment Spaces and Breaking Barriers – Getting it Right tracks of the MOVE Congress 2017 on Day 1 of the programme.
Gil Penalosa, Founder and Chair of the Board of 8 80 Cities, Canada
Gil Penalosa founded the non-profit organisation 8 80 Cities in 2007 with a simple but powerful philosophy: if you create a great city for an 8-year-old and an 80-year-old, you will create a successful city for all people. Since then his organisation has worked with over 250 communities of 6 continents and on more than 100 engagement projects partnering with stakeholders from public health, transportation, parks and recreation and urban design. Now also the chair of World Urban Parks, Penalosa will bring a wealth of international experience to the MOVEment Spaces plenary session on Day 1.
Jane Ashworth, CEO StreetGames, UK
To StreetGames' CEO, Jane Ashworth OBE, the secret to her organisation's success is its motto of delivering attractive physical activity offers to socially disadvantaged youth "at the right time, the right price, the right place and in the right style." Doorstep Sport is an informal delivery of physical activity sessions by local community sport and recreation providers tailored to each target group's needs. It has been at the heart of StreetGames' activities since the non-profit organisation began in 2007. Ashworth will speak in the plenary session of the Breaking Barriers – Getting it Right track on Day 1.
Plenary session and workshops on 6 October at Birmingham Conference and Events Centre
Baroness Sue Campbell, Youth Sport Trust Chair, UK
Having been appointed as the head of women's football at the English Football Association (FA) last year, Baroness Sue Campbell is one of the most high-profile ambassadors for women and girls in sport. Campbell has worked at the forefront of grassroots and elite sport in the UK since the 1980s and helped establish the Youth Sport Trust in 1995.
Alison Oliver, Chief Executive of Youth Sport Trust, UK
One of the UK's experts in physical education and sports development, Alison Oliver has led several of the Youth Sport Trust's initiatives, including the Sporting Start, Sporting Chance and Sporting Best strategies, and the School Games, Change4Life Sports Clubs, Sky Sports Living for Sport, and TOP Sportsability projects. Oliver will moderate the Active School Communities plenary session on Day 2.
Kate Thornton-Bousfield, Youth Sport Trust Development Manager for Physical Literacy, UK
A specialist in primary school physical education and physical literacy, Kate Thornton-Bousfield will share her strategic expertise in finding the essential links between physical activity and learning outcomes. Discover how sport and physical activity can have a positive impact on many aspects of a child's development, and how it can be cleverly integrated into the average school day.
Chris Wright, Youth Sport Trust Head of Wellbeing, UK
There is so much more to physical education than meets the eye and to Youth Sport Trust's Chris Wright, making schools active environments is essential to a child's overall wellbeing – not just their grades. In fact, Wright recently wrote in response to the UK governments new focus on alleviating anxiety and depression among school children that "declining physical and emotional health of young people is currently the biggest barrier to achievement". Find out in this Active School Communities workshop how physical activity in a school setting pays off in more ways than you might think.
Secure your seat for the MOVE Congress 2017