16/10/2012
EYSF 2012: WHAT IS THIS ALL ABOUT?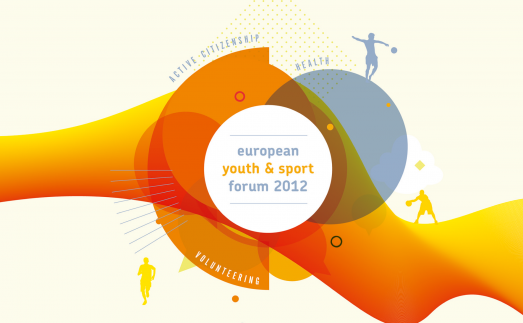 A platform where young European sport leaders can make their voice heard
A few weeks before what promises to be the major youth event in the field of sport aimed at discussing key European topics (ie volunteering, health and active citizenship), Sorin Buruiana, EYSF2012 coordinator, shares with us his vision for the Forum. Get ready, youth are on the move!
What is EYSF and when was it founded?
SB: "EYSF is an European event bringing together young leaders to discuss current topics in the youth and sport fields, exchange practices, network and create recommendations for stakeholders, including policy makers. It was organised for the first time in 2002, in Denmark, and it runs in parallel with the EU Presidency."
What is your role within EYSF?
SB: "I am the EYSF Coordinator, acting as a liaison between the partners, the team of facilitators, the guest and speakers, the service providers and, of course, the participants. I am working together with a fantastic team to create the proper conditions for a successful event."
Who are the ideal candidates?
SB: "The ideal candidates are young leaders with a proven experience in the youth and/or sport fields, with a strong motivation to implement projects and initiatives, and with a good overview of policies in the mentioned fields. The motivation is a factor that cannot miss in the profile of candidates, because experience with lack of motivation could not bring as much as motivation with less experience, especially when we are talking about young people."
What are your expectations of EYSF2012?
SB: "I have many expectations, which are organisational and personal. I hope to have a strong Declaration at the end of the EYSF, which is clear and communicable to the stakeholders. In fact the EYSF has been designed to be a sound box for youth leader in Europe and recommendations will be delivered to a panel of key stakeholders and decision makers, including EU Sport Directors, meeting in parallel with the Forum. I also hope to have projects developed as follow-up of this event and some of them happening during the Move Week 2013, I hope to have a satisfied group of partners and co-funders, and I hope that everybody will also have fun in this process, and this is just the start of the list."
What does the future hold in stock for EYSF?
SB: "EYSF is a tradition and will continue under the given premises in the next years. We hope it will contribute visibly to the quality and impact of youth and sport work in the society and will offer input to the policy makers. We need to take the event to the next level, while ensuring the future and sustainability of the event as well as its visibility and relevance, we may even imagine bringing it along with the European Sport Forum in order to develop bridge between youth and experienced leaders … Furthermore, we are currently thinking of a global stage event on the basis of the solid foundation and expertise we developed through EYSF. So keep an eye on us!"
---