20/9/2018
EU Sport Unit Deputy: Bike for Europe is very relevant and timely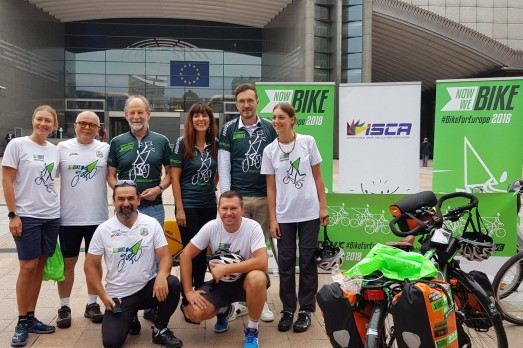 The Bike for Europe cross-border cycling tour has gained a lot of support from cycling advocates throughout September, none more so than the Deputy Head of the EU Sport Unit Marisa Fernandez and the Brussels Minister of Mobility and Public Works Pascal Smet. They welcomed ISCA and the Bike for Europe North Team in Brussels on 5 September and shared their thoughts with Bike for Europe coordinator, Laura Maria Tiidla, on the importance of promoting cycling.
See the video here and read more below.
"The Bike for Europe initiative is very relevant and it's timely," Marisa Fernandez said.
"1.6 billion adults are at risk of deadly illnesses worldwide because of the lack of physical activities, so the main goal of Bike for Europe is to raise awareness about the importance of physical activity, and really goes to meet this alarming, alarming, pressing need."
She also stressed the importance of Bike for Europe's social inclusion and fundraising campaign to buy bicycles for people in need.
"I think also Bike for Europe… it can show how sport can help those more disadvantaged, because Europeans can donate their kilometres, so at the end of the experience bikes can be bought for refugees and disadvantaged people," she said.
Pascal Smet said he saw the value of awareness-raising campaigns such as Bike for Europe in the bigger picture of advocacy for active transport in cities. His city, Brussels, is aiming to become more bike friendly despite being a bustling hub of business and politics.
"You know, we used to be a city for cars. We are now transforming the city into a city for people, and of course for cyclists. And that's what we are doing, and so I'm glad you are stopping here in Brussels and giving this message to the people of Brussels and the people of Europe that the capital of Europe is finally embracing cycling as an alternative," he said.
Maria Fernandez said she also saw ISCA and Bike for Europe as exemplary in promoting the #BeActive message in the lead-up to the European Week of Sport.
"It's of course it is thanks to initiatives like Bike for Europe, and of course our partner of the Week, ISCA. So we are very grateful to bike for Europe and the bikers who raise awareness about the Week, and help us promote our logo, which is #BeActive," she said.
The Bike for Europe tour ends on 22 September in Vienna, and both the North and South Teams will be greeted by the Commissioner for Education, Culture, Youth and Sport Tibor Navracsics and the Vice Chancellor of Austria, Heinz-Christian Strache, in Prater Park in Vienna when they arrive at the officiala opening ceremony of the European Week of Sport.