23/1/2019
European Us Girls online training course and app now available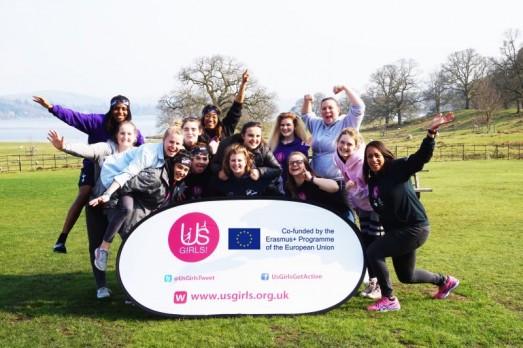 Following the interactive workshop that launched the European Us Girls platform at the MOVING People – MOVING Europe conference in Paris in November, the project's online training course and app are now ready for you to access for free!
The project partners (StreetGames, ISCA, EOSE, Uisp, V4Sport and Women Win), together with 20 female peer leaders, aimed to tailor the online training course especially for organisations and individuals looking to develop and/or improve their female peer leadership offer. The application is designed for the peer leaders to use themselves.
The online training consists of 6 modules that are led by industry experts and broken down into bite-sized pieces. Each element is supported by a downloadable pdf with more information and top tips, as well as 28 international case studies that showcase excellent examples from around the world.
The training covers topics such as 'barriers for women and girls in sport', 'the role of the female peer leader', and 'how to develop and support female peer leaders.' The online training can be completed at your own pace, one module at a time, or you can focus specifically on one module that you are particularly interested in.
The application is aimed at female peer leaders, to use whilst they are volunteering and helping others to get active. The resource is a bank of fun games and activities that require little or no equipment, designed specifically to help leaders get people moving and interacting quickly. The games have all been designed, tried and tested by young women themselves, and are being updated with new ideas monthly.
European Us Girls project manager Claire Lane, from project lead StreetGames, says that the European collaborative partnership, supported by the European Commission's Erasmus+ programme, has managed to produce resources that are adaptable to contexts outside of Europe, and this is a testament to the strength of the partnership.
"The European Us Girls project has been a true partnership approach, with young people at the core. All of the resources have been developed by partners collaborating to ensure that they are fit for purpose in a global context, relevant to the challenges of today, and presented in a way that will fit into busy lives," she says.
"All of the materials are evidence based, and bring tips and guidance from a range of projects across Europe and further afield. Young people have been at the heart of this project, particularly with regards to the app and the project videos. A group of 20 peer leaders came up with the concepts, and the partnership was able to bring it to life! We hope that physical activity promoters will are able to use the resources to help engage more female peer leaders within their organisations, to ultimately help increase participation rates in sport and physical activity around the world."
You can access the European Us Girls online training course here and the app especially designed for young female leaders here.
StreetGames established Us Girls first in the UK and rolled the programme out to Europe with the Erasmus+ supported European Us Girls project. The UK-based Us Girls team now run a blog featuring ideas and stories from Us Girls projects in the UK: https://usgirlsontheroad.wordpress.com/
By StreetGames and ISCA