28/2/2017
Creating active spaces in an urban jungle:
New ISCA project pools expertise from European cities, NGOs and facility specialists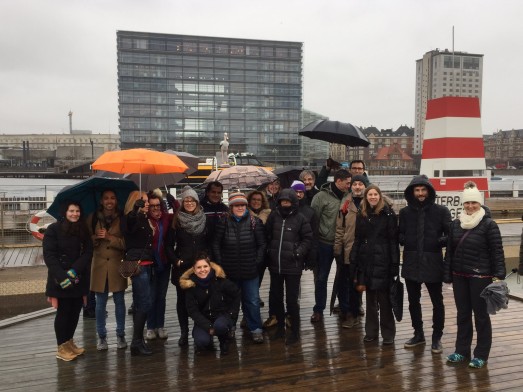 Photo: A wet February afternoon was no barrier to the MOVEment Spaces partners, who explored Copenhagen's outdoor facilities, including a winter bathing pool in the harbour.
To many citizens, today's cities can feel like urban jungles where high-rise buildings, cars, concrete and fences stand as barriers to exercising outdoors and feeling safe when doing so.
Last week ISCA kicked off a new EU-supported project called MOVEment Spaces, which brings together five European cities (Barcelona, Birmingham, Paris, Wroclaw and Plovdiv), five NGOs and experts in promoting facilities for physical activity in urban spaces.
These partners will draw on their experiences to show how active spaces can be created – even in busy and densely populated cities like Paris and Birmingham. During the project, they will gather a collection of good practices and develop innovation and knowledge-sharing online platforms so that other cities and organisations working in this area can learn from each other and take action together.
MOVEment Spaces will be a key theme of this year's MOVE Congress, with the dates and venue soon to be confirmed. Other hands-on opportunities for stakeholders in active urban spaces to get involved will include three workshops and an awards scheme for good practices.
Three types of outdoor spaces will be focus areas for the project: active parks, public squares and open water facilities.
The project will run for two years and ISCA will keep you up-to-date with the developments and opportunities as it unfolds.
Project partners:
Coordinator: ISCA
Cities: Barcelona (ES), Birmingham (UK), Paris (FR), Plovdiv (BG), Wroclaw (PL)
Grassroots sport NGOs: BG Be Active (BG), StreetGames (UK), Eurofitness (ES), UFOLEP (FR), V4Sport (PL)
Experts in urban facilities: Danish Foundation for Sport and Culture Facilities (DK), DGI (DK), International Association for Sport and Leisure Infrastructure Management IASLIM (SI)