26/9/2014
Coca-Cola Europe rethinks the workplace as an "active work space"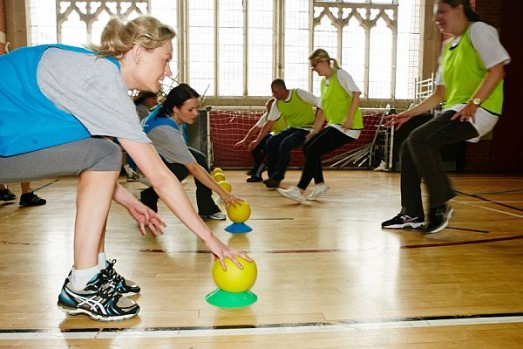 Photos courtesy of Coca-Cola. Sealed elevators and Coca-Cola's London office participating in a morning of activities led by Coca-Cola active lifestyles partner and ISCA member StreetGames in Oct 2013.
Last year, Coca-Cola Europe got more than 3,400 colleagues and their families involved in MOVE Week activities. Around the same number of colleagues also got involved in community and active lifestyle activities during bottling partner Coca-Cola Enterprises' CRS In Action Week, and colleagues from Coca-Cola Hellenic Bottling Company also participated in many MOVE Week activities across their territories.
Driven by its philosophy of Movement is Happiness, the activities Coca-Cola Europe organised for employees were as diverse as treasure hunts, Irish dancing lessons and Zumba, and staff participated in external events from Italy (Milan Hope Race)to Austria (Vienna Night Run) and Romania (Bucharest International Marathon).
But its creative office activities in particular, such as office hopscotch, 'sealed' elevators and physical activity messages placed on stair cases and canteen tray mats, left a lasting impact on how Coca-Cola Europe sees its workplace.
"Last year a number of the ideas and activities during MOVE Week were adopted permanently," the Coca-Cola Company's Internal Communications Director for Europe, Lucy Leverett says.
"Our goal is for MOVE Week to continue its life after the week in October and for us to permanently change the way we work and sustain active healthy lifestylesbothat work and at home."
Coca-Cola Europe Corporate Responsibility Director Wouter Vermeulen underlined at an ISCA panel debate in Brussels this June that the workplace is a vital setting that should be used to add physical activity to our everyday lives. Vermeulen pointed out from his company's experience that rethinking these types of settings and imagining them as active spaces could be the key to overcoming people's reluctance to be physically active.
"We have a saying internally in our company when we are discussing how to promote active lifestyles that as soon as you have to put on your running shoes it becomes a barrier," he said at the debate.
"So how do we ensure that movement is innate; that movement is the default? This requires a huge rewiring of many bits and pieces of our society. Look at ourselves – we are sitting. More people are dying from sitting than from smoking. How do we create walking meetings? How do we create active work spaces?"
Leverett expects even more employees to participate in Coca-Cola's MOVE Week activities this year, as local offices work with some of the company's 90 Active Lifestyle partners in 31 European countries. These currently reach 3.5 million people across Europe, with a goal of getting 10 million active by 2020. The growing engagement of Coca-Cola's own staff in MOVE Week highlights that the partnership is a good match, as Leverett illustrates.
"MOVE Week is an event which is engaging and relevant for everyone in our business," she says.
"It's about living our values, reinforcing that Movement Is Happiness and inspiring our employees to be healthy and active – at work and outside work."
A MOVE Agent doesn't have to represent a grassroots sport organisation, a school or a community group; it can also be a company. If you want to promote your workplace an active space, register your MOVE Week activity and get your office MOVING.
Coca-Cola Europe is a financial partner of MOVE Week 2014. Read more about our partnership here
By Rachel Payne, ISCA