28/4/2017
Burn calories, not electricity:
Organisations across Europe support third No Elevators Day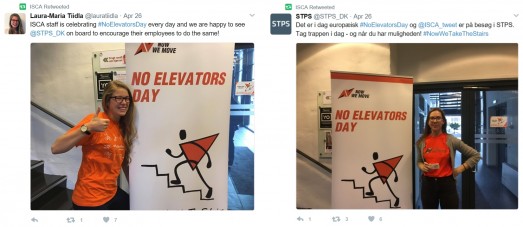 "Burn calories, not electricity!" was one of the many tweets that together with the #NoElevatorsDay hashtag made it to the Danish trending topic list on 26 April. The internet was buzzing and so were the hallways and corridors. People climbed the stairs all over Europe to celebrate the 2017 edition of No Elevators Day.
Almost 500 original posts were made by over 250 No Elevators Day supporters, and a Thunderclap social media campaign dedicated to the day reached more than 100,000 people alone. Even though the day was mostly celebrated in Europe, the news travelled fast and the campaign reached almost every continent.
In Denmark, ISCA's No Elevators Day ambassadors visited the Danish Health Authority. Their six-storey building is an excellent example built for stair-climbing. We met some amazing people who know how to stay active throughout the day: in addition to boycotting the elevators, some of them boycott the chairs and others take as many as 36,000 steps in one day. True champions!
In other European countries, No Elevators Day was actively celebrated in Spain, Great Britain, Turkey, Estonia, Italy, Latvia and many other countries. Besides the official #NoElevatorsDay and #NowWeTakeTheStairs hashtags, people adapted and translated the initiative to their native languages, thus we also celebrated "Liftivaba päev" (in Estonia), "Merdiven kullaniyoruz" (in Turkey), "Да на стълбите, не на асансьорите" (in Bulgaria).
In Bulgaria there were more than 100 press mentions, including coverage on the country's four major TV channels. Organisations across Europe, such as Regional Environmental Center for Central and Eastern Europe, the European Food Information Council, KPMG, Perceptica Analytics, the KUBO Group, Step Jockey and BNP Paribas, also got involved and Tweeted on the day (see some of the highlights below).
See the social media stream here: http://no-elevators-day.nowwemove.com/no-elevators-day/
By Triin Ilves, ISCA